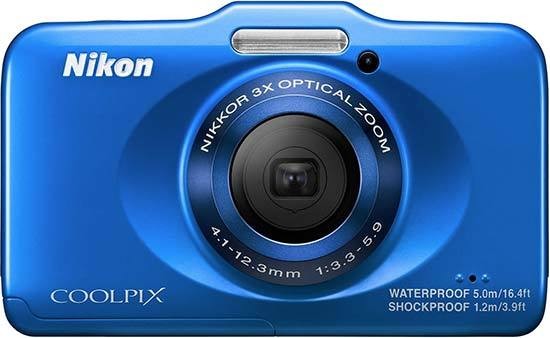 Image Quality
The Nikon Coolpix S31's file size depends on a number of factors. It sways wildly from as little as 4Mb to as much as 5.7Mb. We used the full resolution on the Coolpix S31 which is 10 megapixels, but there's no option to adjust the compression. In fact, there's only three resolution options. You can choose between 10, 4 or 2 megapixels.
Noise
There's no manual over-ride for the ISO settings on the Nikon Coolpix S31, so we had to do a bit of jiggery pokery with the lights. At ISO 80, there's a little discolouration in the darker areas and some noise can be seen at 100% magnification. However, the edge definition is sharp enough and the problems are only really noticeable at full magnification. It's unlikely they'll be viewed in that way.
The first three settings we recorded are all pretty much within a stop of each other, so the noise development isn't that noticeable. The ISO 100 image looks much the same as the previous ISO 80 shot and the ISO 125 looks the same as the ISO 100 shot, albeit with more salt & pepper noise and sharpened pixels. It's obvious that noise reduction is at work – which is a shame at such low settings – but it's doing a decent job and it's unlikely the target audience will mind.
The final setting we managed to record was ISO 400 (the camera does go higher than that). Noise reduction is in overdrive. Colours are subdued in order to eliminate colour noise although it's worth noting that it's worked mainly on the noise colour. The colours of the pocket watch are only mildly changed, which is great.
| | |
| --- | --- |
| ISO 80 (100% Crop) | ISO 100 (100% Crop) |
| | |
|   |   |
| ISO 125 (100% Crop) | ISO 400 (100% Crop) |
| | |
Focal Range
The Nikon Coolpix S31 has a 3x optical zoom which is a 29-87mm in 35mm terms. The low zoom range means that there's little change in image quality. The lens isn't ultra-wide so barrel distortion is at a minimum. The only people who will suffer will be the lethargic because they'll have to walk nearer to the subject.
| | |
| --- | --- |
| 29mm | 87mm |
| | |
Sharpening
Because of the amount of noise on the pictures, sharpening simply exacerbates the problem. Adding sharpening to the pictures from the Nikon Coolpix S31 doesn't do anything to help and should be avoided.
| | |
| --- | --- |
| Original (100% Crop) | Sharpened (100% Crop) |
| | |
|   |   |
| | |
Chromatic Aberrations
We detected chroma on high contrast sharp edge lines such as silhouetted trees against a bright sky. It's easy to mistake that kind of phenomenon for lens flare and that did show up on the occasional shot, but lens flare has a thicker line of colour. We also found it on images that didn't have sunlight on them, such as the macro test shot.
| | |
| --- | --- |
| Chromatic Aberrations 1 (100% Crop) | Chromatic Aberrations 2 (100% Crop) |
| | |
Macro
Close focusing on the Nikon Coolpix S31 is 5cm, which isn't bad, but not the best. The advantage of not focusing as close is that image degradation (which always happens towards the edges of the frame) doesn't affect the picture as bad. Barrel distortion is also not as bad.
| | |
| --- | --- |
| Macro | Macro (100% Crop) |
| | |
Flash
There's a little bit of vignetting at wide-angle but this disappears as the zoom is operated. Using flash doesn't get rid of it, only maintains the available light. While this seems unnecessary, it means that in darker situations, the flash will simulate natural light which you'll prefer over those bleached night-time pictures from the past.
| | |
| --- | --- |
| Flash Off - Wide Angle (29mm) | Flash On - Wide Angle (29mm) |
| | |
|   |   |
| Flash Off - Telephoto (87mm) | Flash On - Telephoto (87mm) |
| | |
The red-eye reduction on the Nikon Coolpix S31 is automatic. It can't be switched off but aside from slowing the picture taking process slightly, it doesn't really matter and it takes an extra worry away from you.
| | |
| --- | --- |
| Red Eye Reduction | Red Eye Reduction (100% Crop) |
| | |
Night
We took two night scene images, one using the Auto setting and the other using the Fireworks mode. This was the closest setting we could find to a night scene. It selected a four second exposure at ISO 80. The latter is great for low noise images, but the shutter speed wasn't long enough and we got an under exposed shot. Now if there was a firework exploding, we think that would be perfectly exposed, but it means that the camera doesn't have a dedicated night mode, which is unusual.
Still, flicking the camera in Auto (which is done by pressing the camera icon, so very easy) and we got an ISO 400 shot with a faster shutter speed of 1/2 second. Still slow enough to need a tripod, but with the higher ISO, a much better exposure. It's just a shame about the breakdown of detail because of the noise that's present.
| | |
| --- | --- |
| Night Auto | Night Auto (100% Crop) |
| | |
|   |   |
| Night Scene | Night Scene (100% Crop) |
| | |