Apple iPhone 12 Pro Review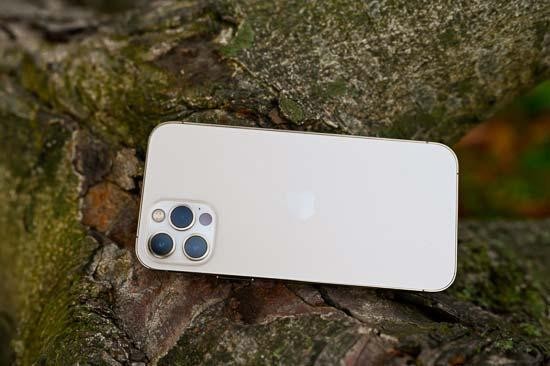 Introduction
As it does with reliability pretty much every year, Apple has released its latest set of new iPhones. This year, Apple has released not one, but four different models, designed to appeal to a wide range of different types of customer.

There's the iPhone 12, the iPhone 12 Mini, the iPhone 12 Pro and the iPhone 12 Pro Max. All of which have slightly different camera set ups. In this review, we're going to be looking at the iPhone 12 Pro, which is probably the most common device that most who have a particular interest in using their phone for photography will be drawn towards.

The cameras on the rear follow on from the iPhone 11 Pro's triple camera set up. You have an ultra wide, wide and telephoto lens to choose between.

A difference between the iPhone 12 Pro and the iPhone 12 Pro Max is that the telephoto lens is slightly longer on the latter - for the iPhone 12 Pro you get a 52mm f/2.0 lens, compared to 65mm f/2.2. We'll mention some of the other differences as we progress along the review.

Other features for the iPhone 12 Pro include Portrait mode, Dual optical image stabilisation (for the wide and telephoto lenses), Panorama mode, Night mode and the introduction of Apple ProRAW - though it's worth noting that this function is not available from launch, and will be introduced via an iOS upgrade at a later (unspecified) date.

There's been a number of improvements when compared to the iPhone 11 Pro, both in terms of the camera and elsewhere. Two camera improvements include the addition of Dolby Vision HDR video recording up to 60fps and a LiDAR scanner which promises to improve Night mode portraits and enable faster autofocus in low light.

In terms of other changes, one of the biggest is the addition of 5G compatibility, for super fast downloads and high-quality streaming. You will need to have 5G coverage in your area, plus a contract/SIM which includes it in your package.

The screen, at 6.1-inches is also a little bigger than the 5.8-inch screen of the iPhone 11 Pro and is slightly higher in resolution. It also now includes a Ceramic Shield front, which is designed to better withstand drops. The water resistance has been slightly improved, too.

Apple has increased the minimum storage capacity of the iPhone 12 Pro models, with it offering 128GB as standard, compared to 64GB with the iPhone 11 Pro.

You can also get 256GB and 512GB models - with no opportunity to expand the storage, if you anticipate taking a lot of photos and videos with your phone, you might want to consider one of the larger capacity models.

A charging adapter or headphones no longer comes included in the box of the iPhone 12 Pro - Apple says this is for environmental reasons, since many who buy iPhones already have at least one of these items already.

However, if you're new to iPhone, or have lost/damaged your existing equipment, you'll now have to pay extra for them (a USB-C to Lightning cable is included in the box only).

At the time of writing, the iPhone 12 Pro starts at £999 for the 128GB version, rising to £1,299 for the 512GB version. It's available in four different colours; Graphite (black), Silver, Gold and Pacific Blue.
Ease of Use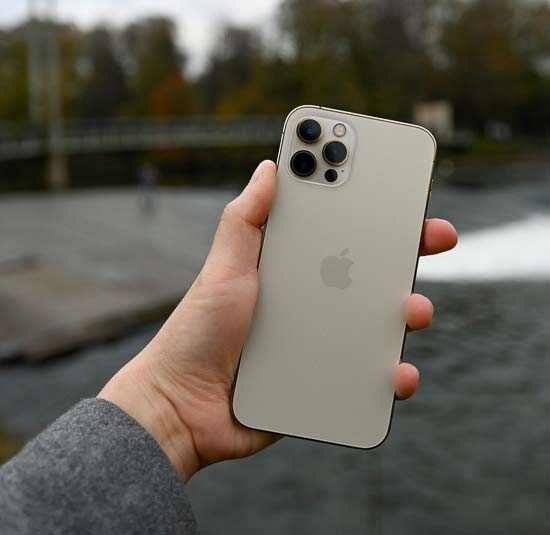 Rear of the Apple iPhone 12 Pro
Apple never strays too far from the design playbook, and as such, the iPhone 12 Pro is essentially an evolution of the phone which came before it, the iPhone 11 Pro.
However, it has a larger screen - both the iPhone 12 and the iPhone 12 Pro are now the same size, unlike the 11 and the 11 Pro.
Apple has also made the iPhone 12 Pro a little more angular than it's predecessor, with straighter corners than before - which you prefer will be down to personal choice, of course.
You can launch the iPhone's native camera app directly from the lock screen by holding down your finger on the camera icon.
If your phone is already unlocked, you can simply tap the camera icon, or, you can hold down your finger on the camera icon to be presented with a number of alternative choices; Take Portrait Selfie (use the front-facing camera with portrait-mode enabled), Take Portrait (use the rear-facing camera with portrait-mode enabled), Record Video and Take Selfie (use the front-facing camera in its standard mode). Otherwise, by default, the native app will launch in the standard 'Photo' mode.
Anyone who has ever used an iPhone before will know that the native camera app is not particularly in-depth or complicated - this can either be seen as positive or negative, depending on your point of view.
On the one hand, it's very easy to use and works very much like a classic 'point and shoot', taking all the guesswork out of settings and leaving you to get on with concentrating on composition.
On the other, if you're an enthusiast photographer who would like greater control over your settings, you'll be out of luck. The second situation can be quite easily solved with a wide number of apps available for the iPhone which gives you that control back - it just means you won't be able to launch the app directly from the home screen.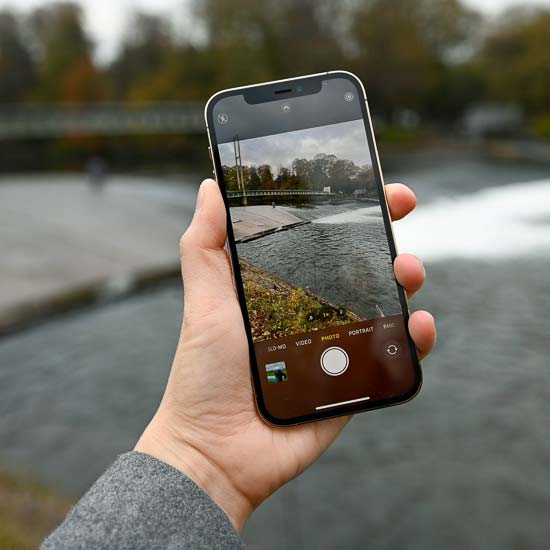 Front of the Apple iPhone 12 Pro
With the native camera app, there are a number of shooting options to take note of, which can be accessed either via swiping left or right on the screen or by tapping the words which represent the modes.
To the right of the standard Photo mode, you have further stills options; Portrait (shallow depth of field effect), and Pano (panorama). To the left is where you'll find the video options; Video, Slo-Mo (slow motion) and Time-Lapse.
The standard 'Photo' mode is probably what most people will use for the majority of their shots. As mentioned above, it is a very simple set up, but there are a few things to take note of.
On the screen you'll see your options for choosing between the three iPhone lenses - 0.5, 1 and 2. Whichever lens you have selected will turn the lettering in the icon yellow, and add an 'x' next to the number.
At the top of the screen, you'll see the flash icon, which you can set to on or off from this icon, and the Live Photo icon, which looks like a bullseye. By setting this to on, you'll create a short video clip with every shot you take.
If you're shooting in low light, you'll see the Night Mode icon also appear - this is not a mode you can manually select, but instead it will automatically appear should the phone detect that there's not enough light in the scene.
In the middle of the top of the screen, you should see a small arrow. If you tap this, you'll be presented with additional options, including flash (which from here you can set to Auto, On, or Off (as opposed to just on or off at the top of the screen), Live Photo (from here, again, you can set to Auto, On or Off), change the aspect ratio from the standard 4:3 to either Square (1:1) or 16:9, dial in some positive or negative exposure compensation - a fairly new addition which came via an iOS update (and is therefore also available on older iPhones), the ability to set a timer - you can choose between 3 seconds and 10 seconds, and the ability to add a digital filter to your shots.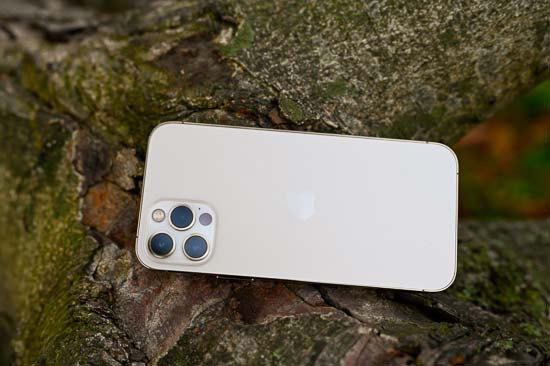 Rear of the Apple iPhone 12 Pro
You can either let the iPhone decide for itself where it wants to focus, or you can tap around the screen to select an alternative focus point.
This will also affect the metering, so if you're photographing a particularly high contrast scene, it can be worth tapping around the screen to find a point where the scene is most balanced - or at least the part you want to be well exposed is found.
When you tap to select a focus point, you should also see a sun icon appear - once it does, you can slide your finger up and down the screen to adjust exposure, to make the scene lighter or darker, rather than relying on the additional option found in the pull up menu.
A feature which was found in the iPhone 11 series is also found with the iPhone 12 Pro, and is very handy. As well as the camera you've chosen to shoot with, the phone uses the additional cameras to show you what's going on outside of the frame.
So, if you're shooting at 1x, the ultra wide-angle lens comes into play to show you what's happening at either side of the frame - particularly useful if you're trying to avoid people in your frame, for example.
If you're shooting at 2x, similarly, the phone will use the 1x lens to show you what's going on outside the frame. If you're shooting at 0.5x, naturally you won't be able to see what's happening outside the frame.
If you head into Portrait mode, you'll be able to create shallow depth of field effects. Although it's called Portrait mode, you don't have to photograph a human for it to work - you can use it on any subject you like if you wan to blur out the background.
You have the option to choose between the 1x and the 2x lens here, depending on how close you are to the subject. The 1x option is also useful for creating more environmental type portraits, showing off more context in the background.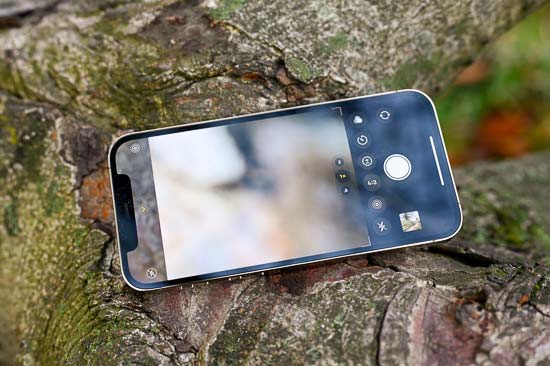 Camera Mode
By using the swipe up menu, again you get a few more options in this mode to choose from, including flash, exposure compensation, timer, the ability to add filters, and the option to choose a different aperture (effect).
You can swipe to as wide as f/1.4, and go all the way as narrow as f/16. If you don't make a choice, it will choose one automatically for you.
In Portrait mode, you've also got different Lighting (effect) options. You can choose between Natural Light, Studio Light, Contour Light, Stage Light, Stage Light Mono and High Key Light Mono. These are all worth experimenting with if you like that kind of thing.
A new addition for Portrait mode is the ability to combine it with Night mode - once again, it's not something which you can elect to switch on, but rather, something which will automatically appear if you're shooting in low light.

Once you have taken a picture, you can view your images in playback, but only those taken in the current session if you opened the camera from the lock screen. If you want to see more than that, you'll need to unlock your phone.
If you've been shooting in Portrait mode, you'll be able to make some changes to your images after you've taken them by tapping 'Edit'. You'll be able to change the lighting mode and adjust the aperture effect, which is useful if something hasn't come out quite the way you'd hoped.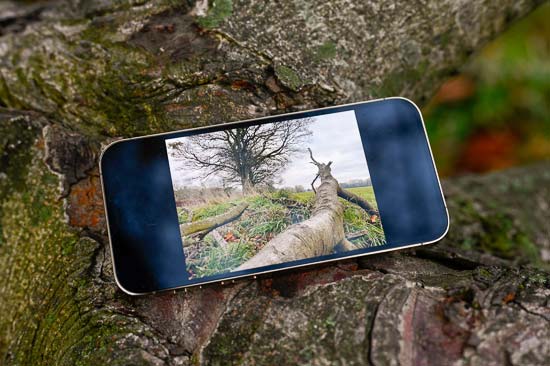 Image Playback
Other editing options will also appear if you've shot in another mode, such as the ability to adjust exposure, contrast, highlights and so on. You'll also be able to rotate, crop and add filters to your image.
It's worth shooting Live Photos, as this will also give you more scope in Editing too - for example, you can choose a different frame if at the point you hit the shutter release, it wasn't quite the decisive moment - having extra frames either side can be very useful.
You'll also be able to create special effects, such as the impression of a long exposure, which the phone creates by blending together all the frames from a Live Photo.
In video mode, you have fewer options to choose between. You can switch the flash on or off (or set it to auto in the swipe up menu), and you can dial in some exposure compensation.
You can also set resolution and frame rates by tapping at the top (or to the left) of the screen - tap 4K and it'll switch to HD, and vice versa, or tap 60 and it'll change to 30 (again, or vice versa).
You can record video with any of the three lenses available on the iPhone. In slo-mo, you can shoot either at HD or 720p, at either 240 of 120fps - these can be altered again by tapping in the top right hand corner of the screen.