Samsung Galaxy Note 20 Ultra Review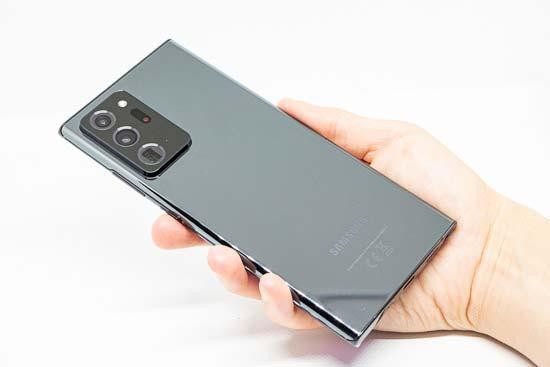 Introduction
Samsung has two "flagship" lines for its smartphones - the Note line and the S line.

The Note line is generally aimed at those looking for a phone that can do a bit of everything, and is particularly popular with business users thanks to the addition of a Stylus pen.

The Galaxy Note 20 Ultra is the latest model in the Note line, and it is also joined by the standard Note 20, too.

The Note Ultra has a class-leading camera setup, which includes a 108 megapixel "standard" camera/lens, a 12 megapixel ultra-wide camera/lens and a 12 megapixel 5x zoom telephoto camera/lens.

In this review, we'll be looking at the Note 20 Ultra. The standard 20 has the same ultra-wide camera, but a 12 megapixel standard camera and a 64 megapixel 3x zoom telephoto camera.

Other interesting specifications of the camera include the ability to record 8K video, Pro mode (for both stills and video), raw capture, super slow-mo video, HDR and the ability to use the Stylus pen to control the camera.

General features include a 6.9-inch Quad HD+ Dynamic screen, a 4500mAh battery, wireless charging, 5G connectivity, 128GB of RAM and either 256GB or 512GB of internal memory.

At the time of writing, the Samsung Galaxy Note 20 Ultra retails for around £1,179 for the 256GB version, or £1,279 for the 512GB version.

You can also buy the phone on various phone contracts, at lots of different prices.

This price puts it in the realm of the iPhone 11 Pro Max, which is perhaps its main (non-Android) competitor.
Ease of Use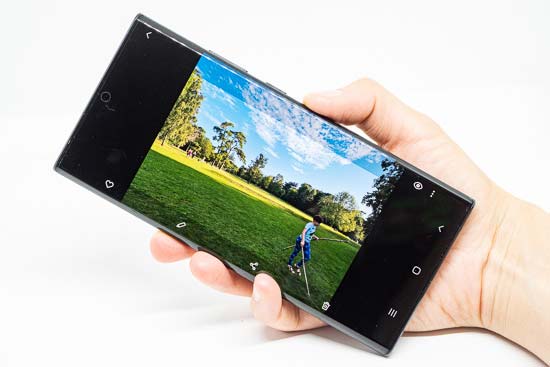 Front of the Samsung Galaxy Note 20 Ultra
The Samsung Galaxy Note 20 Ultra is available in three different colours - Mystic Bronze, Mystic Black and Mystic White. For our review, we've been using the Mystic Black colour way.
It's extremely shiny and makes the phone look like a premium product - but it's probably recommended that you invest in a case to protect it from scratches and bumps.
At the back of the phone, the camera unit protrudes pretty far from the back of it, which means that it won't sit flat on a table, but, if you use a case, it flattens out the back of the phone quite well to make it a bit less wobbly.
Just like the S20 Ultra, the Note 20 Ultra is a very large phone. Some people call these super-large screen phones "phablets", such is their size.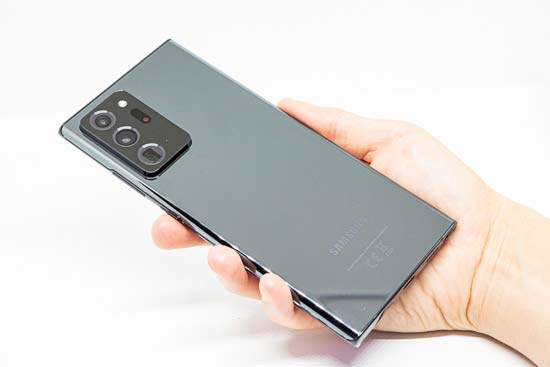 Rear of the Samsung Galaxy Note 20 Ultra
It's great for viewing video content - and looking at your photos - but it can be quite difficult to hold and use the phone one handed, especially while texting, particularly if you have small hands.
The native camera app can be accessed via the lock screen directly, by swiping up from the bottom right hand corner.
As we've seen before, the Samsung Galaxy Note 20 Ultra's native camera app is very well-featured, offering a mix of automatic modes and more in-depth modes which should appeal to enthusiast photographers.
As standard, the app opens in "Photo" mode, which is probably what you'll be using for the majority of your shots. This is a fairly straightforward mode, with a few options to take note of.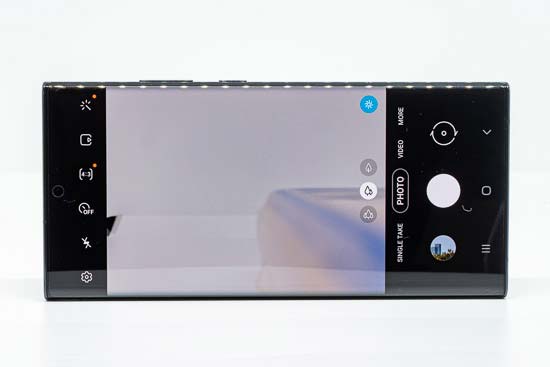 Photo Mode
Along the bottom of the screen (or to the right if holding the phone in landscape orientation), you'll see three icons which represent the three different lenses you can shoot with.
Three trees represent the ultra-wide-angle lens, two trees represents the standard, while a single tree represents the telephoto lens.
If you tap on any of these icons, you'll go straight to that lens, but you'll also see along the bottom options to choose other zoom ratios, ranging from 0.5x-50x. These will use a mixture of optical and digital zoom to achieve. You can also pinch to zoom on the screen, if you prefer.
When using the 50x zoom, a handy feature is the picture in picture display that will appear so you can track the subject around the frame. This makes it much easier to frame your picture appropriately.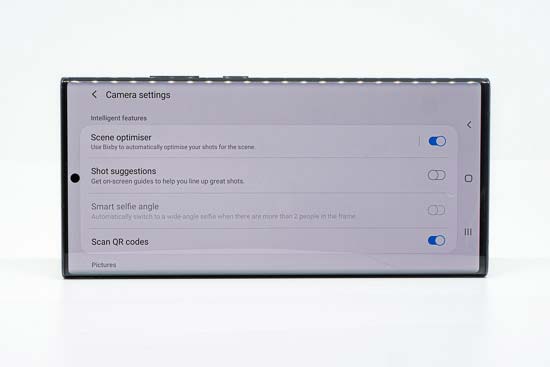 Camera Settings
Along the top of the Samsung Galaxy Note 20 Ultra's screen, you'll also see a row of icons which control different functions.
There's also a general "settings" icon, which you can tap to gain access to more advanced / in-depth settings, such as "Save options", "rear video size", switching on video stabilisation, switching on grid lines and so on.
A useful setting is the ability to switch on "keep settings", which means the app will launch in whichever mode / settings you last used it in.
Back to the main screen, and the other icons include a flash icon (which you can set to on, off or automatic), a timer (which can be set to 2, 5 or 10 seconds), switching on motion picture (where a short video clip is recorded alongside your still image), and aspect ratio (here you have options of 3:4, 9:16, 1:1, and "Full" - which takes advantage of the whole phone screen, as well as the 3:4 108 megapixel option).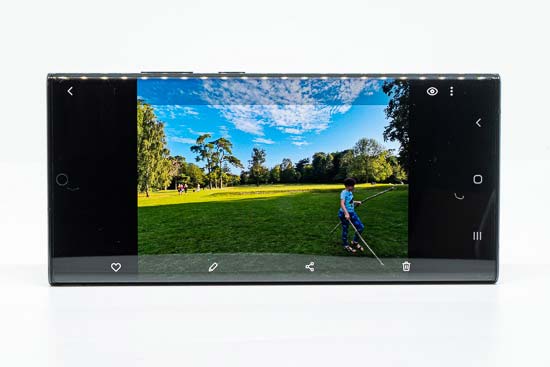 Image Playback
By default, the Samsung Galaxy Note 20 Ultra outputs images at 12 megapixels, but if you're shooting something with fine detail, or you think you might want to crop later, you can choose the higher resolution option here.
If you want to shoot in a different camera mode, then you can swipe right or left at the bottom of the screen.
To the left of the Photo mode, is "Single Take", which we've seen on other Samsung phones before.
With this option, you move the phone around the scene in front of you and it will record lots of different pictures and videos in different aspect ratios, with filters added and so on. It's a good way to get lots of different shots of a special occasion or interesting scene.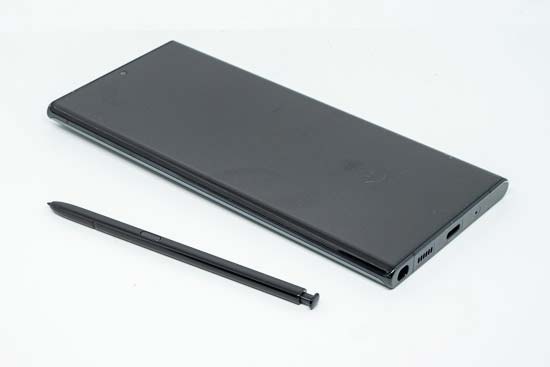 The Samsung Galaxy Note 20 Ultra with Stylus
To the right of Photo, you have Video, which is fairly self explanatory. In video mode, you'll see a slightly different set of options at the top of the screen, including the ability to switch on 8K video recording quickly and easily.
You can also switch on image stabilisation, and the flash. To the right again, you have the "More" option, which brings up a set of other different shooting modes to choose from.
There's lots of modes here, but perhaps of most interest is Panorama - which creates ultra-wide angle shots, Night, which is for use in low-light - and is something that will automatically activate in the standard Photo mode too - Live Focus, for creating shallow depth of field effects, super slo motion video and the "Pro" mode which should be of interest to those with a deeper interest in photography.
Using the Pro mode, you can manually select ISO, shutter speed, exposure compensation, AF/manual focus and white balance, as well as adjust settings such as Tint, Contrast, Saturation, Highlight and Shadow.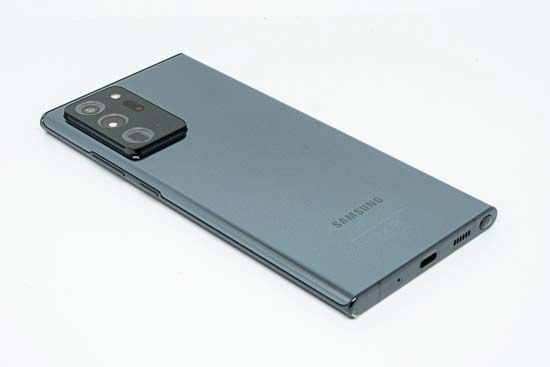 Rear of the Samsung Galaxy Note 20 Ultra
It's in this mode that you can also also shoot in raw format (DNG) if you want to edit your photos in post-production at a later stage.
It's worth noting that you can't shoot in the 108 megapixel mode when shooting in the Pro format, nor can you use anything other than the "standard" lens, which is disappointing.
It's worth mentioning at this point that you can tap around the screen to change the autofocus point, as well as adjust exposure when in the standard Photo mode.
You can also activate an AF/AE lock by holding down your finger on the screen over the relevant point.
Once you're ready to take a shot, you can use the virtual button on the screen, or use the physical volume up or down buttons if you prefer.