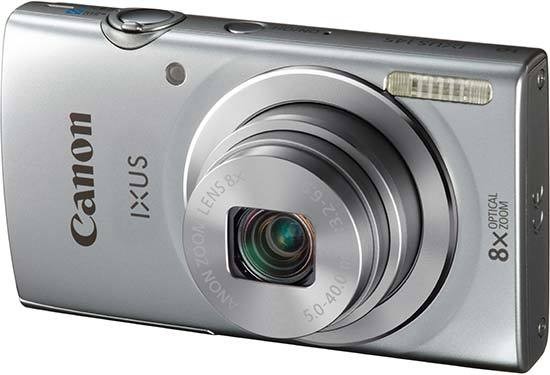 Introduction
The Canon IXUS 145 (also known as the PowerShot ELPH 135) is a slim, stylish point and shoot digital compact camera with a 16 megapixel sensor, 8x optical zoom, intelligent Auto mode and Live View control for basic manual over-rides. There's also a Digic 4+ processor and Eco mode to save power when taking photographs. Will those pictures stand up to our full test? The Canon IXUS 145 costs around £80 / $120.
Ease of Use
The Canon IXUS models have always been about style and build. They don't necessarily have it in the features or performance section, but if you're the type of person that wants a camera based on looks more than anything else, you can't go wrong with an IXUS. The 145 model from Canon is no exception. Continuing on the typical clean lines, boxy design and simplistic layout, the front and rear were coated in a lovely glitter effect paintwork on our review sample. An 8x optical zoom collapses down into the slim body which begins at 28mm. In 35mm terms, that takes it up to 224mm which is pretty good for a compact camera.
The details are in the small things and a couple of indications that the IXUS range has a better build quality are features such as the hard wearing metal tripod bush and small zoom switch. A similar switch on a Powershot would be a bulkier affair. The screen is small by comparison to today's cameras. It's still 2.7 inches which is ample for taking and reviewing pictures. To the right of the screen, the slightly smaller area allows for larger buttons. Typically, the layout of these buttons is the same with the control pad in the centre and four buttons at each "corner". Canon have followed suit, but with a slight twist; they've staggered the height of them to allow them to be closer together without interfering with each other. Many of the buttons have multiple functions. The directional pad – while working as up, down, left and right in the menu will also change modes, enter into menus and adjust what you see on the screen.
| | |
| --- | --- |
| | |
| Front | Rear |
IXUS have always had a reputation for exceptional build quality ever since the original IXUS model was released on the APS film system back in 1996, so it's important to Canon to continue that. The camera is solidly made. There's little movement in the lens system and there's no creaks when manipulated. We'd like to see a lock on the battery door, but the slip system it uses isn't easily moved so it won't randomly spring open. As we mentioned before, the IXUS 145 has a metal tripod bush which is interesting to see on a sub-£100 camera.
Canon menu systems are very easy to use, although from the off there's a place where you could get a little confused. Especially if you've never had a Canon compact camera before. The problem arises within the Auto/Live button. Pressing up on the pad at the back will toggle between the two, but what you may not notice – at least at first – is that you can then go into the Function menu and select from various modes, not just Live View. Program mode is in this area and allows you to change the ISO, white-balance and metering among other things.
The Main menu is a lot easier to understand with two main tabs to work from. The colour scheme is a black background with white writing and an orange highlight. The Main menu in Program mode is the most comprehensive and there's a lot of options for adjusting the focusing such as focus points, AF-Point zoom, Continuous AF and lamp setting (AF emitter). There's also pre-sets for red-eye and iContrast which is a type of dynamic range compensation.
| | |
| --- | --- |
| | |
| Front | Side |
The start up time of the Canon IXUS 145 is impressive. We managed to fire it up, focus and take a picture in 1.5sec. That's slightly faster than the average speeds we've been seeing recently of 1.8sec. There's only one continuous shooting mode which isn't a burst setting. We managed to get around 8 shots in a ten second period which is around 0.8fps (frames per second) or one picture every 1.2 seconds. Focusing is attained in around half a second, which is by no means the fastest system, but that's to be expected. It is perfectly acceptable for the type of end user that the camera is designed for.
Pictures that you've already taken can be accessed by pressing the blue arrow playback button at the top of the camera on the back. If the camera is switched off, simply hold the button down for longer until it powers up. The most recent picture you took will be displayed on the screen with some basic shooting information. In Program mode, you can press the display button and get more indepth information such as ISO, aperture, shutter speed, file size, resolution and even a histogram to check exposure.
| | |
| --- | --- |
| | |
| Memory Card Slot | Battery Compartment |
Press the menu button and there's three tabs across the top of the screen. The first is for playback options such as creating a slide-show, erasing multiple images or rotating. There's also basic editing tools such as red-eye correction, iContrast and resize. The second tab is the DPOF screen, for printing images. You can select which images you want to print and the amount, select all images to print or clear all data. There's a sub-menu called Print settings which allows you to add information to the print such as date, type of print (standard, index or both) and file number. There's also an option to clear all print setting data.
The box contains all the accessories you need to get you started such as a lithium ion battery and charging unit. There's also a figure eight mains lead to plug the charger into the mains socket. This is an area where the Canon compacts fail against other manufacturers. Companies such as Nikon have in-camera charging systems which makes them lighter to carry when travelling and it's possible to charge off of a computer.
You also get a wrist strap to keep the camera safe and at hand for those candid snaps that make holidays memorable. Many manufacturers are now doing away with the CD that would hold the drivers, a basic editing software program and the full User Guide. Instead, they've made everything available to download from the Canon website. Instead you get a Quick Start guide, warranty information and some paraphernalia.