Fujifilm Instax Mini 11 Review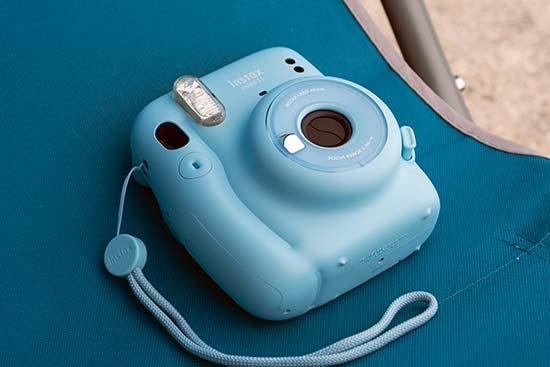 Introduction
The Fujifilm Instax Mini 11 takes on the company's mantle as its budget friendly choice for instant photography, replacing the three-year-old Instax Mini 9. (Yes, there is an existing Instax Mini 10 from yesteryear.)

Thankfully, Fujifilm has introduced a couple of key improvements in the Instax Mini 11 that will increase your hit ratio of usable pictures; auto exposure and a built-in 'selfie' lens setting.

No longer is it down to the user to select the exposure mode. No longer are separate attachments required to adjust the close focus distance for selfies. It's all down to the camera. Phew.

Because while instant photography has never been about technical perfection, be it accurate composition, sharp focus or exposure in your shots, it is particularly disappointing to see an unusable picture emerge on a sheet of paper that set you back the best part of £1.

Those two key improvements alone are enough to elevate the Instax Mini 11 above its predecessor and cement Fujfilm's position as the go to choice for instant photography newcomers.

And the big step up from the Instax Mini 9 to the Instax Mini 11 is not reflected in the price, with a £69 RRP that is only £10 more than before.

The Fujifilm Instax Mini 11 is available for £69.99 / $69.95 and comes in five pastel colours; Blush Pink, Sky Blue, Charcoal Grey, Ice White and Lilac Purple.

It uses the readily available Fujfilm Instax Mini paper which comes in a cartridge containing 10 sheets. A single pack of 10 sheets typically costs £8.99, but you can usually buy multi-packs for a lower cost per unit. For instance, a two pack is usually £14.99 each and a five pack of 10 sheets will set you back anything from £29.99.

Also, if you shop around there is a range of paper frame designs in addition to the standard white, such as Blue Marble', 'Candy Pop' and 'Rainbow'.
Ease of Use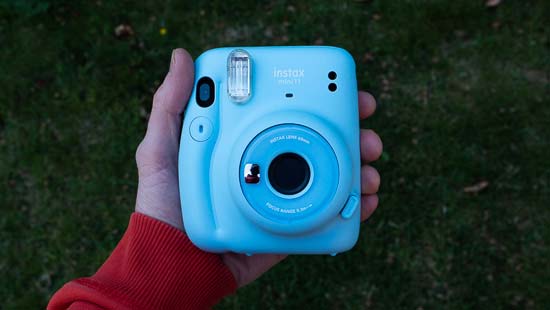 Front of the Fujifilm Instax Mini 11
Being a budget-level instant film camera, the Fujifilm Instax Mini 11 is a doddle to setup and comes with a concise instruction manual to follow for a smooth experience.
To get going, you'll need to load the camera with two AA batteries and, of course, the instant film. Before popping open the large Instax embossed rear door, you'll need to check the two small windows.
If the window by the rear door's catch is yellow, then there is film already loaded. If it's black, it's empty. The other window displays how many sheets remain in the pack of ten cartridge and when S is displayed it is safe to load a cartridge.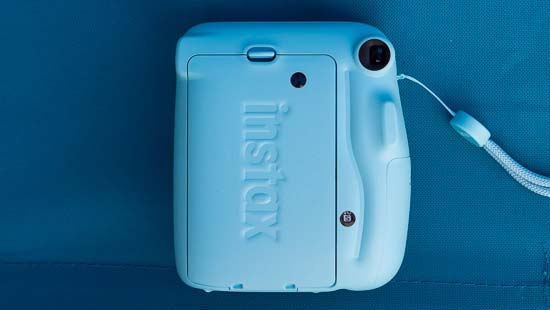 Rear of the Fujifilm Instax Mini 11
With the rear door open, the yellow mark on the cartridge lines up with one inside the camera. Slot in the cartridge and close the door. Simple.
Before you get started, you'll need to take a shot to eject the safety sheet from the cartridge. To switch on the camera, there is a button next to the pop up lens which it into position ready to take photos. Now you're good to go.
A second extension action of the lens barrel puts the lens into 'selfie' mode, which changes the close focus distance to 0.3m. Otherwise, the focus range is from 0.5m to infinity.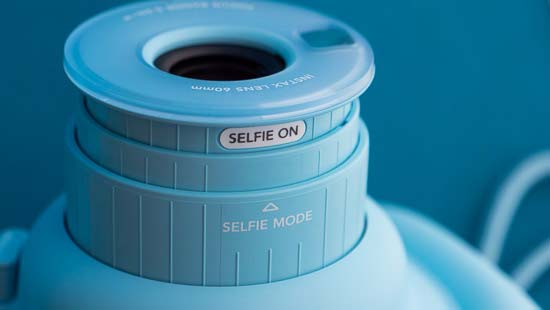 Selfie Mode On
You'll notice that the lens is labelled with a 60mm focal length, which in this format translates to around 35mm - that's a moderate wide angle.
With a subject around a metre away, you'll get a good amount of surroundings in the shot. For a selfie from around 0.4m, you can comfortably fit in two people, but if any else jumps in it's a real squeeze. Landscape format is more accommodating.
Shots can be composed using the basic optical viewfinder, although you won't want to rely on its accuracy down to the T, especially for close up subjects. Also, you really have to press your eye in close in order to see through the finder in the first place.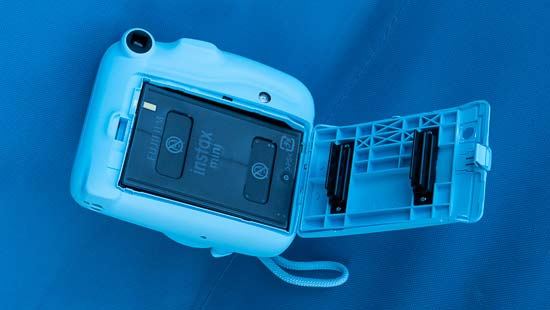 Rear of the Fujifilm Instax Mini 11
The Instax Mini 11 is primarily designed to be used in portrait format with the built-in flash at the top. For accurate framing, the 'O' seen in the middle through the viewfinder should be positioned slightly up and right of centre to your subject. If you switch to landscape format with the flash still on top, then the 'O' should be slightly to the upper left of centre.
On the lens itself is a mirror that can be used as a guide for selfies. The selfie mirror is a surprisingly helpful aid, but again because of the lens position you'll consciously need to tweak of angle of the camera to frame yourself in the centre. And with the camera turned on you, those tweaks are reversed as you look at the camera.
Guidance regarding composition can be found in the instruction manual - it's possibly the most tricky aspect of the camera to consciously remember.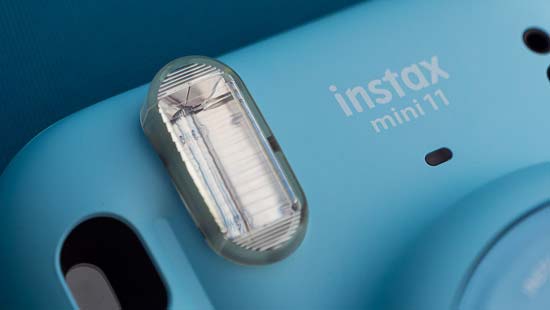 Built-in Flash
When taking shots, you'll need to be aware of where your hands are holding the camera because you will not want to obstruct the built-in flash or crucially the auto exposure (AE) light and Flash Light sensors - both found above the lens.
It's worth noting that the automatic flash fires every time a photo is taken. If we had a choice, the flash would be on by default but with an option of deactivating it for the picture you are about to take.
The Instax Mini 11 is a fun looking camera, available in five colours, and we liked the Sky Blue version we had for this test. There are also different border styles available on the sheets of paper. Clearly, Fujifilm wants people to enjoy this camera.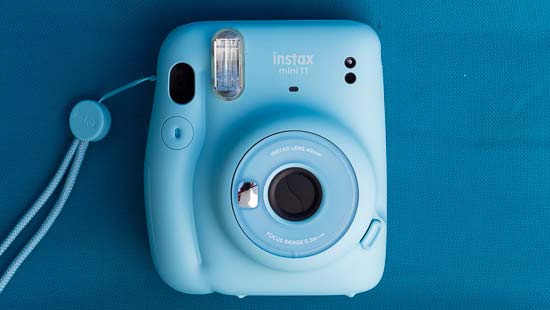 Front of the Fujifilm Instax Mini 11
Style-wise, there is not too much change from the Instax Mini 9. We'll leave it to you whether or not you like the style.
You get a couple of colour-matching accessories supplied with the camera. Our Sky Blue sample has a blue wrist strap and two clip-on buttons to customise the shutter release - one a matching colour and another that glows in the dark. Party time!
Size-wise, the Instax Mini 11 fits in the hand comfortably. There's not a single right-angle on the curved plastic body, which has a smooth and slippy surface.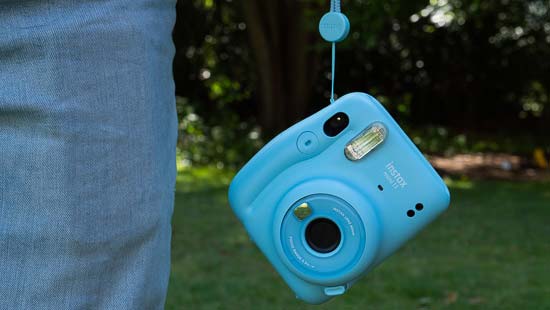 Front of the Fujifilm Instax Mini 11
As such, we found ourselves needing to concentrate a little to avoid dropping the Instax Mini 11 and certainly appreciated the wrist strap as a back up. The camera is of course made from plastic, so ideally you won't drop it, but it is robust enough if you do.
For a secure hold and to avoid obstructing those light sensors, we found placing both hands on the underside of the camera best and comfortable. However, there is no intuitive way to hold the camera properly in landscape format.
With Instant photography, there is the compulsive nature to it. Capture a moment and enjoy it together there and then. Take your keepsake with you. Give one away, share the joy.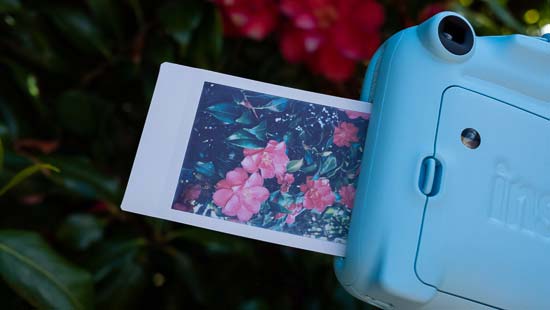 The Final Print
Of course that enjoyment factor is tarnished if the camera is spewing out pictures that appear too bright or too dark, blown out by flash or with off-kilter framing. You don't want photos that go straight in the bin.
Thankfully, with auto exposure now on board, good photos are a more regular experience in this, Fujifilm's budget friendly Instax camera. Of course, you never know exactly what you will get, especially when it comes to framing, but you at least get something close enough. This all comes with a caveat that is painful to say - we strongly recommend reading the instructions!
So long as you have a supply of paper and those moments to enjoy and share, the Fujifilm Instax Mini 11 is a camera you'll want to have at your side.