Fujifilm Instax Mini 11 Review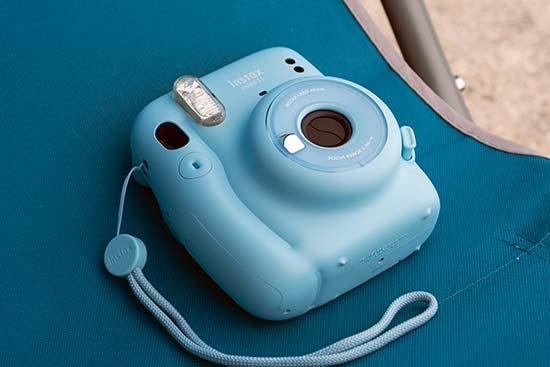 Image Quality
We have mostly ignored the critical element of image quality because that is largely irrelevant in instant photography. Instead, we have focused our attention on how the Instax Mini 11 fares as an instant camera and how it improves on its predecessor.
Like a number of Instax cameras, the Fujifilm Instax Mini 11 uses the Instax Mini Instant Film. 'Credit card'print sizes measure 62x46mm (or 86x54mm including the border) and take about 90 seconds to develop once the paper is ejected after a picture is taken.
If we had to choose between the Instax Mini print size or the Instax Square size (62x62mm), we'd go for the latter. In the hand, mounted to a wall, stuck in an album, the larger square format gives subjects that extra room to breathe. (Perhaps this reviewer is swayed by the love of his own Polaroid SX-70 Instant Camera that shoots in square format.)
Exposure control is fully automatic and measured through the AE Light and Flash Light sensors next to the Instax logo - so don't cover them up when you are shooting or else the shot won't come out properly!
We really appreciated not having to fiddle between the exposure modes like in the Instax Mini 9 - auto exposure means one less thing to think about. (There really shouldn't be much at all to think about with an Instant camera!)
The auto exposure control method in the Instax Mini 11 is through a fixed f/12.7 aperture lens and a variable shutter speed range. Conversely, the Mini 9 has a fixed 1/60sec shutter speed and those four exposure mode settings to adjust aperture depending on the scenario.
In the Instax Mini 11, there is a variable shutter speed range of 1/2 sec to 1/250 sec, with a slow synchro for low light and a built-in flash that has an effective 0.3m to 2.7m range.
The paper itself has a sensitivity of ISO 800, which at a basic level is a multi-purpose paper. The sweet spot for this paper and shutter speed range combination is outdoor overcast conditions or in the shade.
In bright light, the minimum 1/250 sec, fixed f/12.7 aperture and ISO 800 combination is still too fast for exposures not to blow out in the highlights. For example, sunlit bright white clouds lack detail. Extending the fast end of the shutter speed range to 1/500 sec would for the best part solve this problem.
One other factor regarding blown out bright highlights is 'metering'. If there is a range of shadows and highlights in a scene, the AE light sensor seems to favour the shadows. In general, you'll want to capture scenes that feature a similar brightness level all throughout.
We strongly feel that an instant camera should at least be able to take well exposed photos in a range of scenarios - including bright light! Hopefully blown out highlights can be addressed next time around.
On the opposite end of the spectrum in low contrast light, the 1/2 sec maximum shutter speed with slow synchro flash is a big improvement from before.
In the Instax Mini 9, whenever the flash came into play, the background around the subject would be virtually black. With slow synchro in the Instax Mini 11, more detail is revealed in those darker areas outside of the flash range. We much prefer the look of shots in low light here.
An always on flash can be a limiter. If you have more than one subject at various distances within the 0.3 to 2.7m flash range, the closest one will likely be too bright. That would be true of any flash, but here you don't have a choice to turn the flash off.
The Instax Mini 11 minimum focus distance is 0.3m, which again is an improvement over the 0.35m in the Mini 9. It doesn't sound like much, but it's a big difference especially for selfies. While images are never going to be critically sharp, at least pictures using the selfie mode are more likely to be in focus than before. Just make sure you stretch your arms as far as they can go!
Technically, the selfie mode works well for close up shots because what it does is narrow the focus range to 0.3m to 0.5m.
Overall, those handling improvements in the Instax Mini 11 result in a much more reliable camera - there will be far fewer throwaway prints. Auto exposure, an exposure range more capable across a range of scenarios (thought not totally), a more useable selfie mode, it all adds up.
And as for the overall feel and colour rendition of the images, we are big fans of the Instax Mini film. Colours are truly and simply gorgeous.
Prints