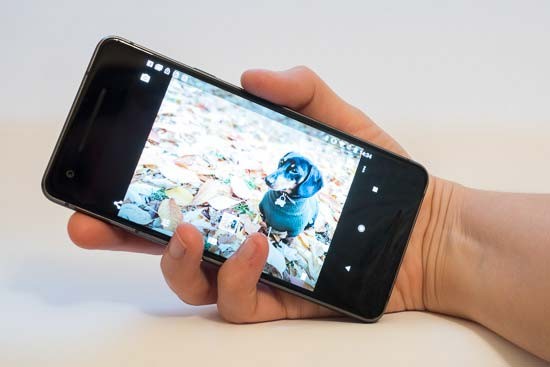 Conclusion
As it stands, the Google Pixel 2 has the highest overall score for a smartphone from independent analysts DxO (which uses a combined photo and video score). It is just behind the iPhone X for stills quality. 
Overall, we have been very impressed with the capabilities of the camera, particularly considering it uses only one lens. Colours are nice and vibrant, without going over the top to retain a natural look. Low light shooting is impressive considering the small size of the sensor, and while there is some loss of detail if you examine very closely, images seen on a small sized screen are very good. 
Particularly impressive is Portrait Mode, which manages to create very natural shallow depth of field effects on the majority of occasions, even coping reasonably well with fine detailed subjects. It would be helpful if you could force the camera to always use this mode though - as it seems to occasionally decide for you that you shouldn't be using it. 
The main complaint about the Google Pixel 2 is the fact that, despite being sold on the back of the quality of the camera, it's not really aimed at enthusiasts. That means there's no raw format shooting, and there's no manual controls in the native app. That's a shame for some, but it won't bother others - plus you can get third party apps to add that functionality if you really want it. It also doesn't have a second lens - while that doesn't seem to make much a difference for the Portrait Mode, having a second lens for telephoto shooting would be appreciated. 
At the moment, consumers have a fantastic choice when it comes to a smartphone which is well suited to photography. The three main contenders at the moment are the iPhone X, Pixel 2 and the Huawei Mate 10 Pro. All of which have their advantages - the iPhone X has two lenses, the Pixel 2 produces fantastic shallow depth of field effects, and the Huawei Mate 10 Pro gives you manual control and raw format shooting in the native app. 
Having tested all three phone cameras, I'd suggest that the Google Pixel 2 produces the best overall image quality - but only just - if it had a telephoto lens it'd definitely be a better proposition than the iPhone X, which beats it by that virtue. That said, it's available for a considerably lower price than the iPhone, so you get a very good value piece of kit here - unlimited storage for photos in the cloud until 2020 is an extra sweetener which makes it an even better deal. 
Ratings (out of 5)
Design
4
Features
4.5
Ease-of-use
5
Image quality
4.5
Value for money
4