Google Pixel 4a 5G Review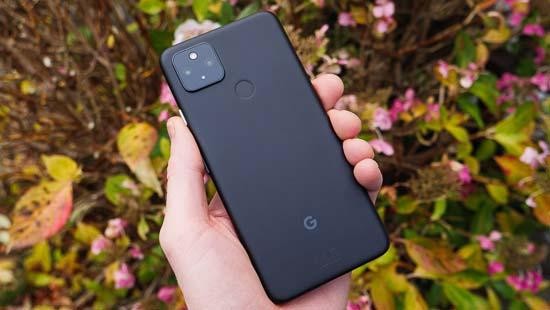 Introduction
You'd be forgiven for thinking that the Google Pixel 4a 5G is simply the Google Pixel 4a with added 5G connectivity. However, there are a swathe of differences.

Of course, there is the price. The Pixel 4a 5G is £499, which is £150 more than the Pixel 4a (and £100 less than the flagship Pixel 5). Now that would be quite the cost to obtain 5G alone.Naturally, there's more.

The Pixel 4a 5G has the largest screen size of the latest crop of Pixels, measuring 6.2-inches. It also shares some Pixel 5 features including a better processor, higher capacity battery and dual cameras, one of which is an ultra-wide optic.

So would this phone be better known as the Pixel 5 XL? Well, no. It's got a plastic body like the Pixel 4a, less RAM, while its larger display is of lesser quality.

After much time with all three of the latest Pixel phones, the Pixel 4a 5G is the most...befuddling. It would have made more sense to go down the Pixel 5 XL route - packing identical features into a larger and more expensive phone.

All being said, the Pixel 4a 5G is still a decent phone in its own right. You get the same easy-to-use camera as in the Pixel 5, but in phone that costs £100 less.

Also, at the time of writing, Google is chucking in a pair of Bose wireless headphones worth £299 with any pre-orders of the Pixel 4a 5G. That's a deal! The phone is available in 'Just Black' only.
Ease of Use
Consider the Google Pixel 4a 5G as a mashup of the flagship Pixel 5 and entry-level Pixel 4a, though we'll start by looking at what sets the phone apart, its larger display.
At 6.2-inches, the 19.5:9 aspect ratio screen is the largest display in the range. However, when held against the Pixel 5 and even Pixel 4a, the size difference isn't so great as to blow us away.
Essentially, the Pixel 4a 5G is a scaled up Pixel 4a - they appear identical in every way. Yes, size is the only attribute that differentiates the displays, with otherwise identical tech specs. They share a FHD+ with 2340x1080 pixel resolution, 24-bit colour depth and 100,000:1 contrast ratio.
The Pixel 5 screen has a higher contrast ratio, seen in a greater detailed tonal range. Also the screen here is covered with Corning Gorilla Glass 3, not the tougher Corning Gorilla Glass 6 like in the Pixel 5.
Overall, we do really like the adaptive display which offers surprisingly clear viewing considering its spec. What we would have liked though is a quicker refresh rate. At 60Hz, the Pixel 4a 5G does not offer the most fluid of displays.
Neither is the polycarbonate (plastic) Pixel 4a 5G IP rated - there's no weather-sealing here. If you demand better materials and water resistance from a Pixel phone, you'll need to splash out on that flagship model.
Knowing the Pixel 4a 5G is not weather-sealed does impact your degree of caution - we've been tentative exposing the phone in adverse weather conditions.
It's got the same slippery matt-finish as the Pixel 4a, somehow exemplified by its larger size. We'd recommend buying a protective case straight from the off - perhaps that's why the phone is only available in one colour.
Yes, it's dimensions are getting on to the two-hand-use category, but only just. If you have large hands you might be fine navigating the OS and camera app with one hand.
The reliable fingerprint scanner is positioned sensibly on the camera's rear and blends in to the matt-finish. Otherwise, the only splash of colour is the pale blue power button.
Battery life is competitive. That 3,885mAh capacity battery comfortably lasts a whole day of frequent use and can be topped up quickly using the supplied 18W charger and USB-C port. A fast charge time of 30 minutes will top up the battery some 40-50%. Wireless charging is absent.
The estimated time that the battery will run out can be displayed in the notification bar. That's a much more useful metric than the usual percentage remaining (although you can see that info, too).
As for speed, the Pixel 4a 5G is a halfway house. It packs the same Qualcomm Snapdragon 765G processor as the Pixel 5, but only 6GB of RAM like in the Pixel 4a. Given we're at the £500 price mark, we'd have hoped for 8GB of RAM. Overall, the Pixel 5 is a twinge snappier.
The Pixel 4a 5G starts life with the Android 11 operating system and you're guaranteed up to three years of updates - truly this device is future proofed.
On that same theme, as its name so helpfully suggests, the Pixel 4a 5G comes equipped with 5G connectivity for the fastest data available.
Like the other current Pixel phones, storage is built-in only and the 4a 5G is only available as a 128GB version. For a £500 phone in 2020, that's the least that we would expect.
Google does offer its online storage option to offload media from the phone into 'Google Photos' and the direct compatibility makes for a pain-free process.
A brief note on audio before we get onto the camera; there are powerful stereo speakers, plus headphone jack is included!
So, the camera. Really this is a copy paste of the Pixel 5. Which, on balance given that the Pixel 4a 5G costs £100 less, is especially a good thing.
Starting with the modest, there's a 8MP f/2.0 front camera with 84° field of view. Again, the lens is found in the top left of the display - that's an increasingly common-place design.
On the rear is the standard 12.2MP f/1.7 dual-pixel rear camera with 77° field of view - that's roughly a 24mm focal length.
The second camera is a 16MP f/2.2 ultrawide lens with 107° field of view - that's a 0.6x magnification of the standard camera.
Should Google have stuck with a 2x telephoto camera (like in the Pixel 4) instead of introducing an ultrawide camera? Well, with a cropped-in portrait mode plus an effective 2x digital zoom, we feel that including an ultrawide lens makes for a more verstaile camera setup. Not everyone will agree with us!
Each camera is supported by the highly effective dual-pixel phase detection auto-focus. We've been able to acquire sharp focus is most scenarios including at night - the same cannot be said for all phones.
Not only does focusing increase your chance of sharp shots, but the camera also benefits from optical and electronic stabilisation, the latter is added for video.
Stationary handheld videos appear completely still, while panning and walking videos are smooth enough. It's no gimbal, but it's impressive. For photography we have certainly enjoyed sharp images with no obvious softness caused by hand shake.
With identical cameras, the camera app is identical between the Pixel 5 and Pixel 4a 5G. There's only one distinction from the Pixel 4a because that phone lacks the second camera, so you can't go wider on the zoom slider.
As for navigating the camera app, this is a simple user experience.
There's a choice between the standard camera, portrait camera, Night Sight and Video, each with a basic degree of customisation and framing guides, plus Panorama, Photo Sphere, Slow Motion, Time Lapse and Google's 'Lens'.
As standard, full-size JPEG pictures are 4:3 aspect ratio, although you can shoot in 16:9. Given the 19.5:9 aspect ratio of the screen, there is a reasonable bookend on the display outside the image area where app controls are displayed. It's a clean look.
The regular camera offers the most customisation, where you can select aspect ratio, self timer, flash modes, plus add RAW image capture alongside JPEG.
The portrait mode crops in tighter to your subject than the standard camera setting and produces a background blur effect.
Video wise, you get 4K and Full HD up to 60fps when using the rear camera, or Full HD 30fps with the front camera. The slow motion is a 1/4x speed in Full HD (120fps) or 1/8x speed in 720p (240fps).
Panorama and timelapse modes both handle well. For the latter, there are five speed options with suggestions for what type of action the speed is best suited to, with the fastest 120x speed ideal for a sunset.
Night Sight provides a subtle but welcome improvement to images in low contrast light. You're guided to keep the phone steady during image capture, and the end result is an overall punchier image.
There's also an astrophotography setting within the Night Sight mode. We've not received this prompt in real world conditions despite spending nighttime outdoors in a rural location.
We've already raved about the Live HDR feature in our Pixel 4a review. For us, it is superior to the auto HDR option in almost all other phones.
Simply tap the image area to reveal highlight and shadow sliders, through which brightness levels can be independently adjusted. Live HDR is ideal for discerning image makers who want manual control over brightness levels.
On the surface, the Pixel 4a 5G's camera is modest. However, for us image makers it is entirely logical and offers the manual control where it is most needed (for a phone), backed up by key features that ensure sharp handheld pictures.