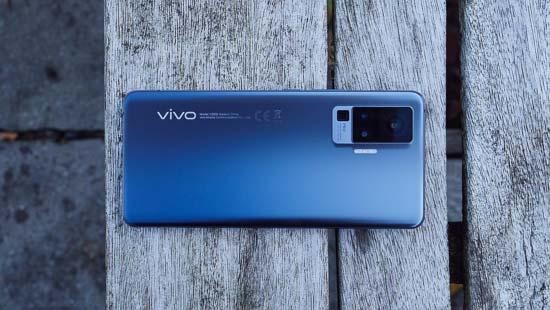 Introduction
If camera performance tops the checklist for your next smartphone, then the Vivo X51 5G is well worth a look. Here we have a phone trying new things, being the first that we are aware of to have a gimbal mounted main camera.

This double-ball suspension mount enables the Vivo X51 5G to tackle photo and video scenarios that are simply not possible with other smartphones.

The gimbal is claimed to be 3x more effective than optical stabilisation, so you can be assured to have the best chance of sharp handheld pictures even at night, plus top-drawer video stabilisation performance.

This is about the most versatile camera that we have used in a phone, backed up with a wide array of shooting modes. And it all comes in a premium-feel, thin metal body with curved true edge-to-edge 6.56-inch AMOLED display.

Available now in 'Alpha Grey' and costing £749, the Vivo X51 5G is in-between that mid-tier and flagship price point, pitted against bigger names like the Google Pixel 5, OnePlus 8T and iPhone 12.

Its innards are par for the course of a mid-tier phone; Snapdragon 765G processor and 8GB RAM. Really, that extra £200-300 or so over mid-tier phones is getting you the cutting edge camera tech, and we think it's worth it. (Well we would, wouldn't we?)
Ease of Use
The Vivo X51 5G is a slim and sleek phone wrapped in an attractive metal 'Alpha Grey' shell.
It's thinner than most and the display truly maximises the phone dimensions - it's a gorgeous 6.56-inch AMOLED display that extends into the curved edges of the phone.
Featuring a 600,000:1 contrast ratio and FHD+ display (2376x1080) made from Schott glass, you get a crisp and clear view in the majority of scenarios, save for the brightest of outdoors lighting.
This is not quite the largest display size around, nor is the pixel density (and therefore detail quality) top drawer, but it's plenty big enough for us and should even satisfy moderate gaming use with a 90Hz refresh rate.
Crucially too, when factoring its thin profile, the Vivo X51 5G can be used single-handed quite comfortably, including the quick unlock via the in-screen fingerprint scanner.
A grippy clear case is supplied with the phone so you can keep enjoying that smart exterior with a firm hold, plus a protective film is applied to the screen. The film does pick up scratches, but at least it's doing the job.
Thin dimensions means no headphone jack. Where more and more mid-tier phones are bringing back the jack, we're getting into flagship territory here and you'll need a Bluetooth enabled headset instead.
A benefit of no jack is that it's easier to design the phone with an IP rating. Sadly, despite no jack, there's no water proofing or resistance here. Given the phone already has a metal body and tough display, an IP rating would have sealed the deal for us. Shame. Maybe next time, Vivo?
Battery life is decent - you get a 4,135mAh unit that in general use comfortably lasts a day and goes into the next. Of course, use the phone heavily or sparingly and your experience will differ.
A 33W USB-C charger is supplied with the phone and it's possible to get a 65% charge in as little as 30 minutes. This is the sort of performance we'd expect at this price point.
Inside is the increasingly common mid-tier Qualcomm Snapdragon 765G processor, backed up with a reasonable 8GB of RAM. Also, as its name suggest, the Vivo X51 5G is compatible with the 5G network.
Cheaper phones are available with the same processor, or in limited cases the even more powerful 865G processor. However, the phone feels perfectly supported by Snapdragon 765G. Programmes load instantly, everything flows. This processor feels top drawer.
The operating system is Funtouch OS 10 Global. Heard of that before? Well, anyway, you wouldn't know it, because on the surface you'd think that this Chinese-brand Android phone shared the same OS as a Google Pixel.
Storage is built-in only, though you get an ample 256GB. So, no memory card slot, no headphone jack, really this phone design is as paired back as they come.
The focus for this phone is clear, in fact it's spelled out on the top of the phone; 'professional photography'. Any area where cutbacks have been made - like not offering the top-end processor - are instead pumped into the camera tech.
As we have mentioned in the introduction, the gimbal mounted main camera is the star of the show, but there is so much more around it too.
The rear camera block packs four lenses. Yet, unlike on many other four-lens-camera-blocks, the Vivo X51 features four genuine lenses; 15mm f/2.2 (0.6x), 25mm f/1.6 (1.0x), 51mm f/2.5 (2x) and 128mm f/3.4 (5x), plus a digital zoom up to 60x.
The super wide and 5x telephoto lenses use 8MP, the mid-telephoto is 13MP while the main camera is 12MP, although a high-res 48MP is also available via a dedicated shooting mode. Switch to the selfie camera and it's a 25mm f/2.5 lens with 32MP resolution.
As standard, full-size pictures are 4:3 aspect ratio, although you can shoot in 1:1 or 16:9 aspect ratio. Speaking of 16:9, you get 4K videos up to 60fps when using the rear camera, but videos are capped to 1080p with the selfie camera.
In video mode there is a 3D sound recording, but again this is only available in 1080p at 30fps. Without comparison, we don't know if this feature is as effective as Nokia's 'Ozo' audio.
Shooting modes vary with each lens. The main camera also offers Bokeh (f/2.0) and Super macro, while the Portrait mode that blurs the background can be used with all lenses except the super wide one.
The 'More' option in the shooting modes bar opens up a plethora of additional modes, many of which we will explore in the Image Quality section. It includes 48MP, Pano, Slo-mo, Time-lapse, Pro, Astro Mode, Pro Sports and Supermoon.
Pro mode offers manual control over exposure and also the option to shooting RAW dng and JPEG format simultaneously. You can also display a real time Histogram - did you hear that, camera enthusiasts?
Before getting too carried away unpacking all of the modes, let's shift our focus to the gimbal and the impact that it has on the handling of the camera.
The double-ball suspension mount boasts a 3° rotation to compensate for camera shake. Vivo claims it's 3x more effective than optical stabilisation and the results are a revelation, especially for low light photography and video (for which there's additional electronic stabilisation too.)
A greater degree of shake compensation during photo capture means that the Vivo X51 can be used handheld at night, no problem. One example, using the Astro Mode we got sharp handheld shots with a shutter speed of 16 seconds. Certainly, typical exposure times of 2+ seconds in the Night mode are no problems at all.
The gimbal and image processing are mind-bogglingly effective. Why's this important? Maximising light intake through long exposure time increases image quality. It's what photographers with proper cameras do, although a tripod would be needed!
Sure, most £300+ phones offer a Night mode of some kind. But such phones are usually combining multiple pictures to create a brighter overall picture. The pictures may be bright, but the image quality is not as good.
With it's superior low light image quality and plethora of dedicated night shooting modes, we can't think of a better smartphone for low light photography than the Vivo X51 5G.
Really, stabilisation comes in handy in even in cloudy weather, not just low light. When a smartphone lacks stabilisation altogether, you're always mindful of holding the camera steady in order to avoid blur. There's no worries here.
Video stabilisation is pretty good too, but comes into its own when Super Anti-Shake is employed. You can't shoot in 4K, but these 1080p videos are super smooth. It's a class-leading performance.
A handy on-screen stabilisation tool displays a real-time floating dot inside two circles. Keep the dot inside the inner circle for effective stabilisation. This tool helps you know just what degree of movement you can get away with before scenes become shaky and blurred.
Where stabilisation is effective, perhaps the biggest handling let down is focusing. Autofocus is fine, but not the best around and the most likely cause for any soft images made by the Vivo X51 5G.
You can increase your chances of responsive AF by rooting in the menu and making sure that the focusing mode is appropriate to the scenario. Motion AF offers Eye AF (Auto, left and right), body autofocus and object autofocus. All three can be active at the same time.
After some use, we landed on utilising Object autofocus, through which a simple tap on your desired subject locks in focus even when the scene is recomposed. It's not available in all shooting modes but crucially it is in the main photo mode.
Continuous shooting is employed when you hold down the shutter button when using the regular photo mode. A burst of up to 20-shots is captured over what appears to be around 2 seconds.
By default the phone uses AI to detect the scene and will suggest an appropriate shooting mode. For example, turning the camera to this computer screen right now and the 'Doc' mode is offered. All in all, the phone makes suitable suggestions.
One gripe about the handling of the camera app is that the return/ back arrow from the main menu is located in the very top left by the front camera and often requires a few thumb taps to respond.
Overall, the Vivo X51 is up there as one of the most versatile smartphone cameras that we've used. It's smooth, packs four lenses, offers pro tools and a plethora of easy-to-use shooting modes.