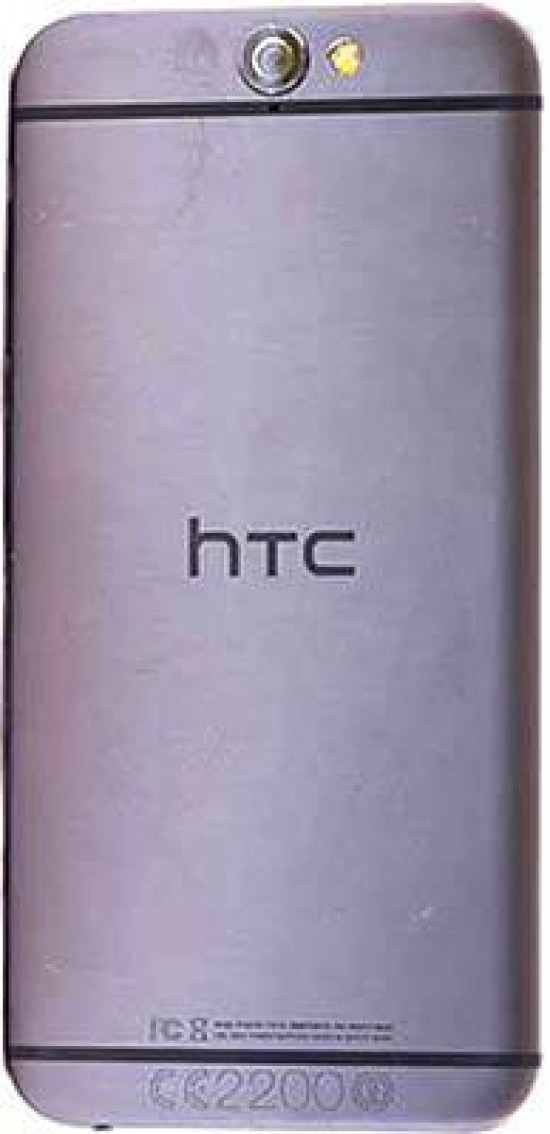 Introduction
The HTC One (A9) was announced at the end of 2015 and is designed to sit just below HTC's flagship M9 camera, offering some of the same or similar specs, but in a cheaper body.

In the UK, HTC offers the HTC One (A9) with 2GB of RAM and 16GB of inbuilt storage. However, in the US, you can get it with 3GB of RAM and 32GB of inbuilt storage. In either case, it's possible to expand the inbuilt storage with a Micro SD card.
Ease of Use
At first glance it would be extremely easy to mistake the HTC One (A9) for an iPhone 6S as it has a very similar design. At the bottom of the screen where you would expect to find the "home" button on an iPhone is a fingerprint scanner which can be used to unlock your phone.
On the right hand side of the phone are a rocker switch can be used to adjust volume, or, if you set it that way, to take a photo instead of pressing the virtual shutter release on screen. There's also a lock button next to the volume rocker - you'll need to be careful not to press this button when you want to take a picture as it will turn the screen off and you'll need to start again. The buttons feel quite different however, so it's reasonably likely you'll be able to feel for the correct one.
Although the volume button can be used to release the shutter, it's a little awkwardly placed. If you were to hold the phone in the same way as you would hold a standard camera, then it's very easy to obscure the lens with your left hand. Instead you need to adjust your grip so that you are using your left hand to take the shot, rather than your right as you might normally do.
From the unlock screen you can access the phone's camera without having to completely unlock the phone. You'll see a camera icon on the right hand side - simply tap this and drag with your finger upwards and the camera app will start.
After you've taken a shot, you can press the preview in the top right hand corner of the screen to look at it. You'll be able to look at any photos you've taken in your current unlock session, but if you want to see older photos, you'll need to unlock the phone fully.
Unlike the iPhone's native camera app, the HTC One (A9)'s native camera app is quite extensive and gives you lots of scope for changing settings, depending on how advanced you are.
Front of the HTC One (A9)
First of all you'll need to choose the "type" of camera you'll be using. To do this you tap the icon in the bottom right hand corner of the screen which appears as four dots. Here you'll be able to choose from Selfie (the front camera), Camera (automatic use of the rear camera), Panorama (for creating ultra wide shots), Pro (where you'll find the manual controls, again with the rear camera), Hyperlapse (for creating time lapse videos), and Slow motion (for creating slow motion videos).
Most of the time you'll probably switch between Selfie and Camera, but if you want to take more extensive control, switching to Pro is recommended.
Once you're in Pro you'll see that there are a number of options which you can change from labels marked around the screen. For a start you'll be able to switch on raw format shooting by pressing the button marked JPEG - you can switch back to JPEG only by pressing the raw button again. When you're shooting in raw, the HTC One (A9) will record in both the universal DNG raw format as well as in JPEG.
Along the bottom of the screen you will see your manual controls. There's white balance, exposure, ISO, shutter speed and manual focusing. Tap one of these controls and then use the slider which appears on screen to make an adjustment. You can also leave all, or some, of these in Automatic by selecting the "A" icon at the top of each slider. It's a shame not to see aperture here - especially as you can control almost everything else.
The maximum shutter speed you can select is two seconds, which doesn't give you a whole lot of scope for slow shutter speed type shots, but it's also worth considering that there's no tripod mount which you'd need to stabilise the camera when shooting with long shutter speeds anyway.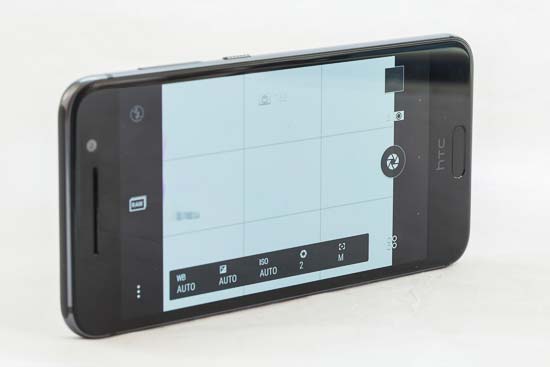 Camera Mode
There are a couple of other settings which can be changed from an icon marked with three small dots. These include photo size, and whether or not the self-timer is on. If you move into the General Settings option from this small menu, you'll see that you can switch a Grid on to help with composition, and you can select whether or not you want to use the volume button to take an image.
The final option which you can change in this mode is whether or not the flash is switched on. There's only on, or off, there's no red-eye reduction mode or anything like that. To turn it on, tap the flash icon in the top left hand corner of the screen.
If you decide to use Camera (as opposed to Pro) mode, then you'll find that your options are more limited. For instance, you won't be able to shoot in raw format mode, or change anything such as white balance or shutter speed. You will have access to automatic flash however - where the camera will decide for itself whether or not to activate the flash. In Camera mode you can also use Auto smile capture, Voice capture and Touch to capture if you prefer. Recording a video can be done directly from Camera mode, where it's not available in Pro mode. There is a smaller video icon directly underneath the camera (or stills) icon - simply press this to record a video. Unlike some other HTC One phones, the (A9) isn't capable of recording 4K video.
You can either use the front facing camera to take a selfie by selecting Selfie from the camera modes, or clicking on the reverse camera icon while in Camera mode. Either way this will activate selfie mode and you'll be able to use the front facing camera to take your shot.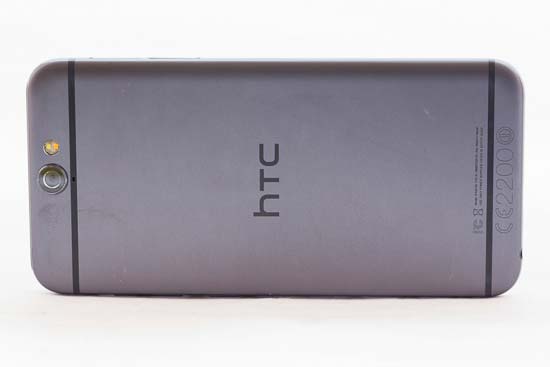 Rear of the HTC One (A9)
The HTC One (A9) is generally very quick in operation, with the AF system locking onto a target with ease. On the downside this sometimes means you're presented with a false positive - where the focusing square turns green to indicate that focus has been achieved - when in reality, focus has been missed. This is most common when you're trying to shoot close-up shots, rather than during general shooting, so it's just something to be aware of.
Start-up time of the camera from the lock screen is reasonably quick, making it likely that you'll be able to capture action as it unfolds when you need it to. During testing, the fact that the (A9) uses a slower processor than the M9 wasn't too evident - however it's important to remember here we are assessing only the camera itself, and the faster processor may have a greater effect on using the phone overall for other applications.
How you get images from the phone depends on how you stored them in the first place. As you can insert a Micro SD card, if you have a MicroSD card reader you could take out the card and read them that way. Alternatively, you could email or wireless transfer individual photos and videos. The final way is to plug the phone into your computer using a Micro SD cable. The first time you do this, you should be prompted to install the HTC Sync Manager, and every time you plug the phone in it should detect you've done that and load up the software. The software allows you to transfer images across to your computer. In practice, it seems to be a little temperamental and doesn't always recognise that you've plugged in the phone, so it may be wiser to use a Micro SD card.