Nikon Coolpix L340 Review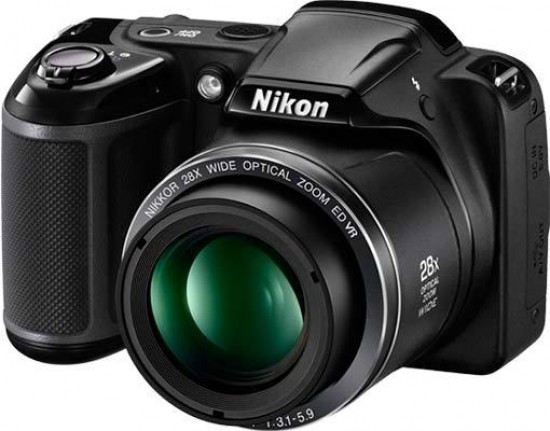 Image Quality
All of the sample images in this review were taken using the 20 megapixel Fine JPEG setting, which gives an average image size of around 6Mb.
If you think you're only going to be using the Nikon Coolpix L340 in bright sunlight (such as while on holiday), then it might make a good option. However, as soon as light levels drop - even for slightly gloomy and overcast days - then image quality is less than ideal.
Colours directly from the L340 in good light are nicely saturated, with a decent amount of vibrance. When shooting in lower light, image smoothing gives many shots a painterly effect, which has an effect to dampen the more vibrant colours in a shot.
Again, in bright light, the overall impression of detail is good when looking at images at A4 or below. However, once you start shooting from around ISO 400, a loss of detail can be seen in most shots. Another problem is that even with Vibration Reduction activated, it can be difficult to shoot handheld and get a sharp image when using middle-range ISO speeds (400-800) if the light is a little low. To get around this, you can shoot at ISO 1600, but then the amount of image smoothing on display is detrimental. On the plus side, due to the amount of shooting that's going on, images don't appear particularly noisy at high ISO speeds.
It's not all bad news though - most of the time, the Nikon Coolpix L340's automatic metering system does a decent job of producing pleasing exposures, with little need to dial in exposure compensation. Automatic white  balance also copes well with artificial light to produce pretty accurate colours.
It would be nice to see a little more creative control, i.e. the ability to change aperture or shutter speed, but the intended target audience is somebody who isn't particularly advanced so it's understandable why Nikon has chosen not to include this ability on the camera.
Images taken at the far end of the telephoto optic (28x) show a good level of detail on a par with those taken at the wide angle end of the lens. Images taken at focal lengths in between also have a good level of detail with little distortion. Again, this is when shooting in bright daylight. You can use the digital zoom, which basically crops into the image, to get closer to a subject. It's useful if you're desperate to get closer to the subject, but there's a noticeable loss in quality when compared with images taken using the optical zoom.
Noise
The Nikon Coolpix L340 has 6 sensitivity settings ranging from ISO 80 to ISO 1600 at full resolution.
| | |
| --- | --- |
| ISO 80 (100% Crop) | ISO 100 (100% Crop) |
| | |
|   |   |
| ISO 200 (100% Crop) | ISO 400 (100% Crop) |
| | |
|   |   |
| ISO 800 (100% Crop) | ISO 1600 (100% Crop) |
| | |
Focal Range
The L340's 28x zoom lens achieves a maximum wide-angle focal length equivalent to 22.5mm, and is capable of a telephoto reach of 585mm (in 35mm-camera terms).
| | |
| --- | --- |
| 22.5mm | 630mm |
| | |
Sharpening
Here are two 100% crops - the right-hand image has had some sharpening applied in Photoshop. The out-of-the camera images from the Nikon Coolpix L340 are slightly soft at the default sharpening setting and benefit from some further sharpening in a program like Adobe Photoshop. You can alternatively change the in-camera sharpening level to suit your tastes.
| | |
| --- | --- |
| Original (100% Crop) | Sharpened (100% Crop) |
| | |
|   |   |
| | |
Chromatic Aberrations
Given the range of the zoom lens, the Nikon Coolpix L340 shows some purple fringing, with limited effects in areas of high contrast as shown in the examples below.
| | |
| --- | --- |
| Chromatic Aberrations 1 (100% Crop) | Chromatic Aberrations 2 (100% Crop) |
| | |
Macro
The L340's lens will focus as close as 1cm from a subject, however depth of field becomes very shallow at this extremely close distance.
| | |
| --- | --- |
| Macro | Macro (100% Crop) |
| | |
Flash
The pop-up flash on the L340 has four settings: Auto, Auto with red-eye reduction, Fill flash & Slow sync. Shooting a white surface from a distance of 1.5m, the flash provides even coverage with the lens zoomed in, though some vignetting is visible in the wide-angle shot.
Whether the flash is set to standard Auto mode – or Auto with red-eye reduction – the camera successfully avoids any trace of red-eye.
| | |
| --- | --- |
| Flash Off - Wide Angle (22.5mm) | Flash On - Wide Angle (22.5mm) |
| | |
|   |   |
| Flash Off - Telephoto (585mm) | Flash On - Telephoto (585mm) |
| | |
And here are a couple of portrait shots. As you can see, neither the Fill Flash or the Auto with Red-eye reduction options caused any amount of red-eye.
| | |
| --- | --- |
| Flash On | Flash On (100% Crop) |
| | |
|   |   |
| Red Eye Reduction | Red Eye Reduction (100% Crop) |
| | |
Night
One of the L340's shooting modes is called Night landscape, which produces results such as this. You can expect almost identical results by simply leaving the camera in Smart Auto mode though.
| | |
| --- | --- |
| Night | Night (100% Crop) |
| | |