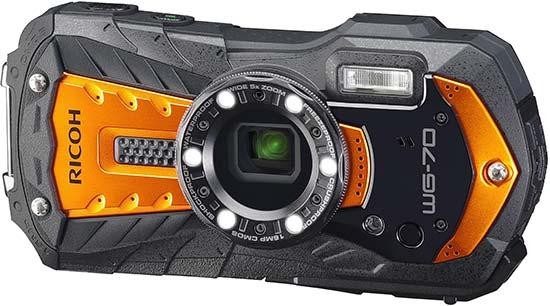 Introduction
The Ricoh WG-70 is a new tough compact camera that's perfect for underwater photography down to 14 metres for up to two hours.

It's also shockproof against a fall from a height of 1.6 meters and freeze-proof against temperatures as low as -10°C.

The WG70 features a Digital Microscope mode that allows the subject to be greatly enlarged, plus six built-in Macro Lights to assist close-up shooting.

The Ricoh WG 70 has a 16 megapixel back-illuminated CMOS image sensor with a top sensitivity of ISO 6400 and a 5x optical zoom lens with 28mm wide-angle coverage.

Available in two colours, the Ricoh WG-70 is available now priced at £280 / $280.
Ease of Use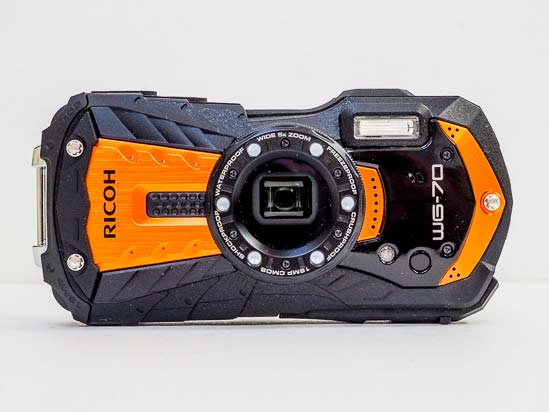 Front of the Ricoh WG-70
We live in unprecedented times; so is the reassuringly rugged and recently introduced Ricoh WG70 the destruction-proofed point-and-shoot compact for our challenging age? Last summer we reviewed Ricoh's similarly toughened WG-6 compact, which arrived in the wake of the older WG-60 (which this more closely resembles), and by contrast featured what was trumpeted as an improved and renewed design and handling. The WG-6 was less about go-faster stripes and wacky designs and was altogether more 'reined in' than previous iterations.
We guess that didn't quite work, however, as with the introduction of the WG-70, which we're looking at here, Ricoh is back to its old tricks of 'letting it all hang out' externally with its very familiar sporty fascia. It makes us immediately suspect there's not much that is all that different on the inside, either.
A glance at headline features of the Ricoh WG70 and there's much here too we've seen before… and, yes, adorning the outwardly identical WG-60; returning here is a maximum 16-megapixel resolution from a back-illuminated CMOS sensor, whereas last summer's WG-6 gave us 20MP (perhaps there is a WG-7 in the works?).
The back plate LCD screen used for composition and review in the absence of an eye level viewfinder also boasts the same size as that on the WG-60 at 2.7-inches and the same screen resolution at a so-so 230K pixels. While there is nothing technically 'wrong' with that, this latest generation model is hardly pushing hard at the boundaries of the technology; indeed, at initial glance it appears Ricoh is simply giving its users a shrug and asking 'will this do?' of this model that feels like it is recycling yesterday's spec.
More positively though, the Ricoh WG-70's elongated 122.5x61.5x29.5mm dimensions and 173g weight (identical to the WG-60) ensures it will fit easily within a trouser or jacket pocket, making this a camera that you can take anywhere with you.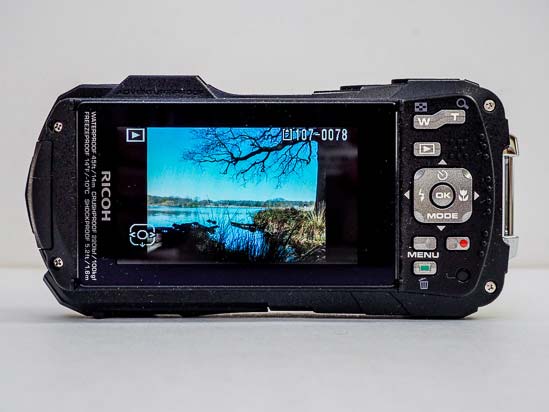 Rear of the Ricoh WG-70
Destruction-resistant qualities include water proofing to a depth of 14 metres for up to two hours, it being shock proofed to withstand a drop from 1.6 metres in height, 'crush proofed' against pressure being exerted on it to an equivalent of 100kgf, and being freeze-proof down to minus 10°C – all useful if pretty run-of-the-mill in terms of specification, it has to be said.
Also identical to its predecessor is the business end of this camera – namely its 5x optical zoom and focal length the equivalent of a wide angle 28mm to 140mm in 35mm film camera terms, with an aperture range of f/3.5 to f/5.5 meaning it's hardly class leading when it comes to low light performance.
Likewise the 9-point AF system is inherited from the WG-60, as is the ability to shoot maximum 1920x1280 pixels video at 30fps, or 1280x720 pixels video at up to 120fps for a slow motion effect upon playback.
On both cameras we get an ISO range manually selectable from ISO125 up to ISO6400 equivalent, with the ability to set the automatic functionality of the camera to only shoot within pre-defined ISO parameters. With tweak-able exposure compensation a modest +/- 2EV, it all feels a little underpowered.
With, more unusually, 68MB of internal memory on board the Ricoh WG-70, a thumbnail-sized SD card is once again the optional removable media of choice here. The supplied lithium ion battery which is inserted into the base of the camera, next to said SD card slot, is good for a modest 300 shots from a full charge according to CIPA testing (a drop from the maximum 340 pictures offered by the WG-6); pretty standard for this equally modest class of camera.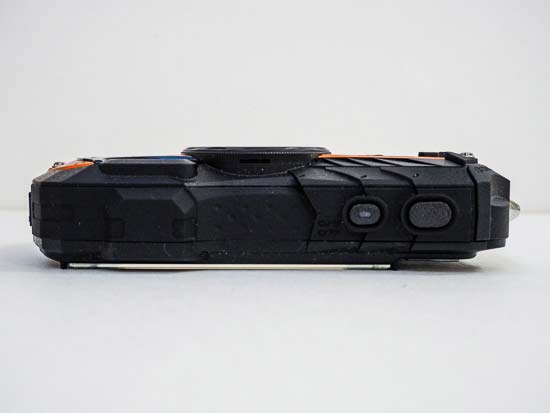 Top of the Ricoh WG-70
With no spare mains charger provided, the WG-70's battery is charged in-camera via mini USB port. This is hidden/protected beneath a chunky cover at the side of the camera that also protects a mini HDMI port. The user has to depress a catch and slide open said cover to access the ports, thereby ensuring that neither accidentally becomes exposed if venturing underwater, out in the snow or down to the beach.
Enthusiasts are going to feel disappointed that there is only the option here to shoot JPEG files rather than Raw, but then enthusiast photographers aren't exactly the market for this camera. Here it's all about having a means of capturing images that you might not attempt with a smartphone; even though said smartphone may actually give you better end results in terms of images and video these days.
From the front, then, the Ricoh WG70 resembles a camera designed by a hyperactive teenager with a fistful of sharpie pens. We had the fluorescent orange and black model in for review, though there is also a more sober alternative, which, in its plain black livery more closely resembles an object you'd find on Batman's utility belt.
Centre front is the camera's lens, so placed to try and avoid stray fingertips coming into the corners of the frame when gripped, as at no point does the Ricoh's internally stacked zoom lens actually protrude from the body; in being permanently shielded behind a toughened glass panel.
Unusually the Ricoh WG 70's key specification - including the fact that it's waterproof, crushproof, freeze-proof and shockproof – is printed in circular fashion around the lens, adding to the industrial impression here, where practicality is placed before beauty.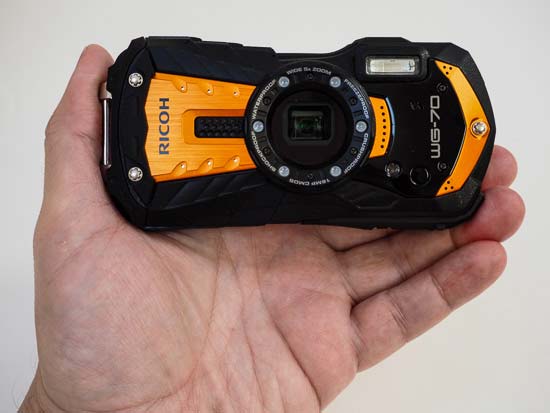 The Ricoh WG-70 In-hand
As with its predecessors, we also find six micro LED lights ranged in ring-light fashion for illuminating close up subjects when Digital Microscope mode has been activated.
An arguably inessential yet defining feature of this endlessly regenerated compact series, new this time around – and the only feature, along with a new Cross Processing mode – we could find that has altered since the WG-60 – is the ability to select a 2MP recording size, up to a maximum 12MP in said mode. Essentially the camera deploys its digital zoom – in effect a crop – to make it appear as if subjects have been 'enlarged'.
With its visible screws and buzzsaw-like plastic strips, the surface of the Ricoh WG70 does give something for your fingers to find purchase on, in lieu of an actual grip. This is useful, because there is barely any space at the camera back for the thumb to rest on, due to the slightly more pronounced and chunkier controls on the camera back that we're conventionally used to. This meant that we did on occasion find camera shake resulted in softened images.
At a push it might be possible to operate the WG-70 if wearing regular gloves – but definitely not if wearing thicker ski gloves. That said, the core top plate controls – pared back to merely an on/off button and also the shutter release – are easy to handle even with wet fingers, thanks to the slightly roughened surface to each helping to avoid slippage.
The Ricoh WG 70's fascia also finds room for a lozenge shaped flash window, speakers and built-in microphone, making the most of the available real estate. Unfortunately this location however means that the microphone picks up the sound of your fingers moving across the camera surface as you're recording video, so you'll want to hold still.
A firm press of the top plate power button and the camera is ready nigh instantly, requiring another firm press of the shutter release button to actually take the shot, which is committed to memory in one to two seconds. Again the need for firm presses is all about avoiding the camera accidentally going off in your pocket. A toggle of the zoom slider on the back of the camera and the zoom glides from extreme wide-angle to maximum telephoto in just two to three seconds, which is fine.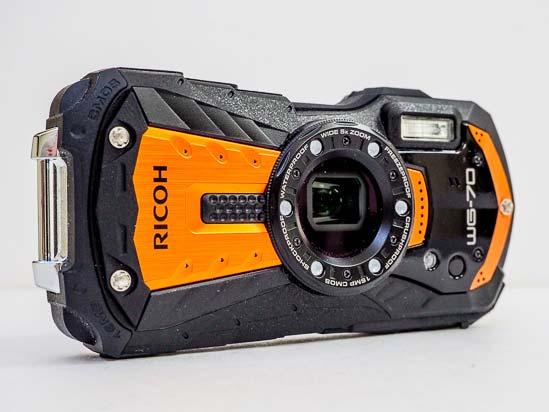 The Ricoh WG-70
With each side of the WG70 camera offering lugs for attaching a wrist strap, and one side providing a larger loop for attaching a thicker carabiner-style strap (not provided), the back of the WG-70 offers the expected straightforward approach, our attention zero-ing in on a four way control pad with a self explanatory OK button at its centre, around which are ranged means of activating or adjusting the flash, self timer, accessing 1cm macro mode or digging into and scrolling through the camera's cartoon icon illustrated shooting modes, in lieu of otherwise doing so via a typical shooting mode wheel (not featuring here).
We also get a dedicated red record button for filming video on the WG 70 – which kick starts recording whatever alternative mode the camera may have been set to – along with a playback button, the aforementioned rocker switch for activating the zoom, plus a further button providing a handy means of deleting images. The last button on the back is again self-explanatory, in being marked 'menu'.
The screens shown here ensure easy navigation – being divided into folders for stills shooting, video, custom settings and set up – even if, as we've mentioned when looking at previous generations of the camera, they appear somewhat dated in appearance. The fact that this is a toughened camera also means that we don't get touch screen operation here, nor do we get an articulated LCD, for obvious reasons.
The bottom of this camera features an off-centre screw thread for a tripod and a catch-operated slide and open compartment housing the WG-70's battery and media card, as previously detailed.
So, with the proof being in the proverbial pudding, how does the Ricoh WG-70's photos match up to the specification and performance? Are we getting images here that transcend the camera's point and shoot origins, or do they indicate that this is all about a toughened exterior and sporty looks first, and image taking and creation second?