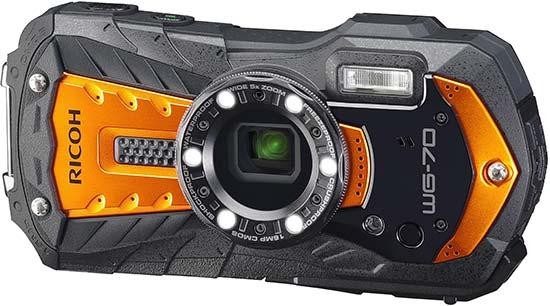 Conclusion
Not quite a camera to get the heart racing and blood pumping if you know what has come before it, the Ricoh WG-70 is to all extents and purposes an 'update' in numerical terms only, given that core specification, functionality and even weight and dimensions are identical to its WG-60 predecessor. Indeed there's something very 'same old, same old' about the 'new' WG70 point and shooter.
Therefore if you see the older WG-60 more keenly priced than the 'new' edition, and do actually need a camera that you can subject to a degree of rough and tumble usage, which is really the only true reason why you should be considering this model or its near twin, then feel justified in snapping it up. You won't be missing out on anything and, if you're in the market for an easy-to-use, water resistant and damage-proof compact, you may well get yourself a bargain in the process.
In all other respects, when viewed standalone, the Ricoh WG-70 is a distinctly average camera, delivering distinctly average images. There's nothing wrong with that per se, but we do feel Ricoh could try harder next time. Innovation is what drives the market, but here we're merely treading water; a scenario, incidentally, where you may well get the best out of this undemanding waterproof point-and-shoot.
Ratings (out of 5)
Design
3.5
Features
3
Ease-of-use
4
Image quality
3
Value for money
3.5