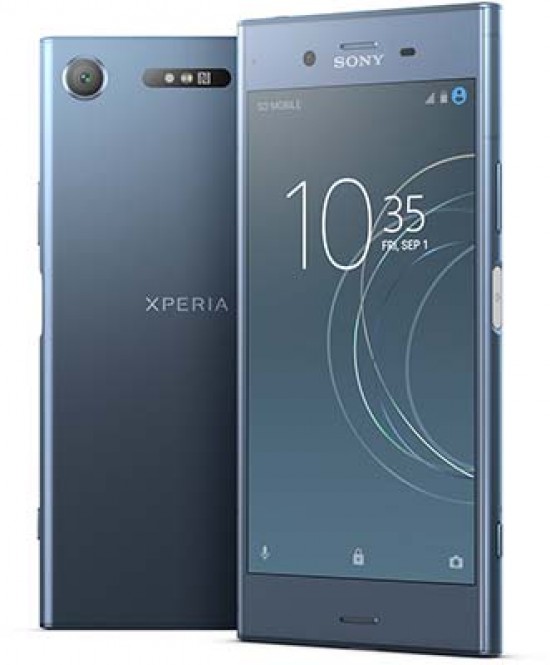 Introduction
The XZ1 follows on from the Sony XZ Premium, but is designed to sit alongside it as a separate offering, rather than replace it. It's one of the first Android phones in the world to use the new Oreo operating system.

In terms of appealing specifications for photographers, the Sony XZ1 has a high-resolution, 19 megapixel 1/2.3-inch Exmor RS for mobile memory-stacked sensor - one of the highest resolutions for mobile phones currently on the market. The lens is an f/2.0 Sony G lens, which offers an equivalent of 25mm.

On the front of the camera, there's also a high-resolution sensor, this time offering 13 megapixels on a 1/3.06-inch Exmor RS sensor. The lens is is 22mm f/2.0.

There are other useful specifications which are aimed at those with an interest in photography. This includes 4K video recording, super-slow motion video at 960fps, predictive capture, autofocus burst shooting and a mode which allows you to control various settings, such as ISO.

We were loaned the Sony Xperia XZ1 by Vodafone for the purposes of this review.
Ease of Use
The Sony Xperia XZ1 has a very plain look about it, which will be to some tastes, but not to others. Unlike some of the other flagship smartphones on the market, namely the Samsung Galaxy S8, iPhone X and Huawei Mate 10 Pro, there's a bezel around the screen. This seems a little old-fashioned at the moment, but that comes down to personal taste. One thing which is good is that the back of the phone has a smooth matte finish, which unlike many of the metal backed or glass phones, doesn't seem to attract fingerprints.
On the left hand side of the phone you'll find a door which hides the Micro SD card slot. Very handily, you don't need a special extraction tool to get this out as you do with many phones, instead simply sliding a fingernail underneath the door will open it up. This could be very useful for photographers wanting to quickly swap out memory cards regularly.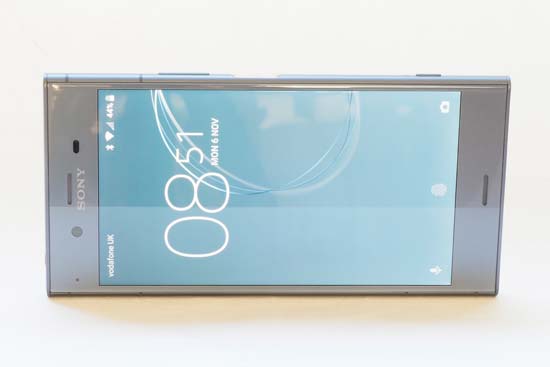 Front of the Sony Xperia XZ1
There's a dedicated camera button on the bottom right hand side of the phone - or on the top right hand corner if you're using the phone in landscape format. If you hold down the button for a couple of seconds when the screen is locked, you'll automatically launch the native camera app. You can also swipe up from the bottom of the screen to launch the app, or select the camera app from the icon list on the main home screen.
Once you're in the native camera app, you'll see that there's a range of different options and shooting modes for you to choose from. By default, the app launches in Superior Auto, which, as the name suggests selects the key settings for you. Across the top of the screen (or left when holding it horizontally), you'll see the other shooting modes. There's Manual, Superior Auto, Video and finally "camera apps" which gives you access to things like AR effect, Panorama and Creative Effect.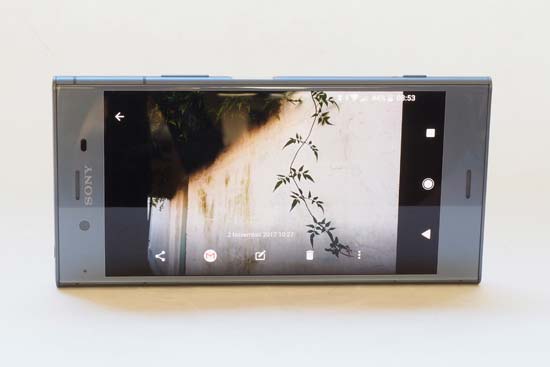 Front of the Sony Xperia XZ1 / Image Displayed
If you choose manual mode, you'll be able to change key camera settings. To do this, tap the sliders button, and you'll see you can change focusing mode, shutter speed, ISO, exposure compensation and white balance. To change a setting, tap the one you want, and then either use the slider to adjust a setting, or tap an appropriate icon. At any time you can tap reset to take the setup back to the default shooting settings. There's a good range available here, but as is common with mobile phone cameras, you can't alter aperture. There's also no raw format shooting here, which seems like a strange choice for a phone which is otherwise so squarely aimed at photographers.
Whatever mode you're shooting in, you can access extra settings by clicking on a cog icon in the bottom left hand corner (bottom right in landscape format). For example, when in manual mode, you'll find settings here including self-timer, resolution, Auto Capturing and more. It should be noted that you'll have to unlock the phone to access all of the different settings on offer.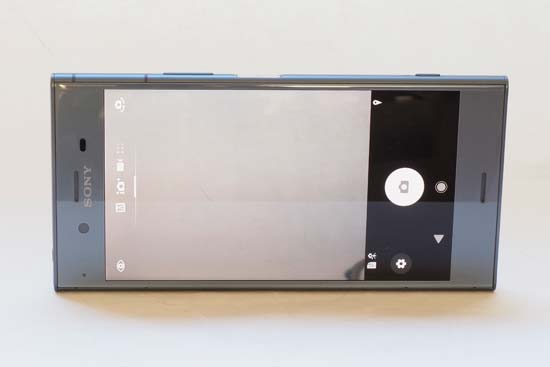 Front of the Sony Xperia XZ1 / Camera App
When you want to shoot a photo, you have three different options. You can use the dedicated camera button as a shutter release, the virtual shutter button displayed through the app, or you can use the volume rocker switch. This is a good range of options which comes in useful no matter what angle you're holding the phone in. Using the camera button makes it feel more like a "real" camera than perhaps other phones offer.
The shutter button can be configured to either take a single shot, or to fire off a burst of shots. The XZ1 features "autofocus burst shooting", which ostensibly means that it will keep focus on the subject while taking a burst of rapid-fire shots. This it does very well, and is impressive for a mobile phone. It is able to keep up with relatively predictably moving subjects, with a decent hit rate. It's not exactly going to be a substitute for sports photographers, but for every day shots of pets and kids, it's very helpful.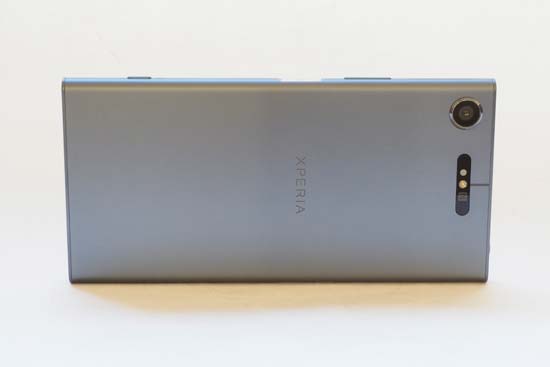 Rear of the Sony Xperia XZ1
A couple of other settings of note. The flash can be switched on and off by tapping the flash icon in the corner of the screen. You can choose between Auto, Fill Flash, Red-eye reduction, Off, and using it as a torch. Another icon on the top of the screen is to switch to using the front camera for selfies. In order to engage the digital zoom, you use a pinch motion on the screen - digital zoom up to 8x is available.
Another useful feature which we've only touched upon briefly so far is Predictive Capture, which can be set to either "Auto" or "Off". With this feature, the phone detects when you're photographing a slightly moving subject and takes a few photos before you fully press the shutter release. You'll then be able to choose (in camera), which of the four options you want to choose. This is good way to help ensure you capture certain expressions and the like, but occasionally the XZ1 believes you're photographing something moving when you're not - which is less helpful. Worse than that, occasionally it misses when you're photographing something which moves, where it would have been handy. It would be good if the option to leave the feature switched on for an extended period was available, such as if taking a photo of a child.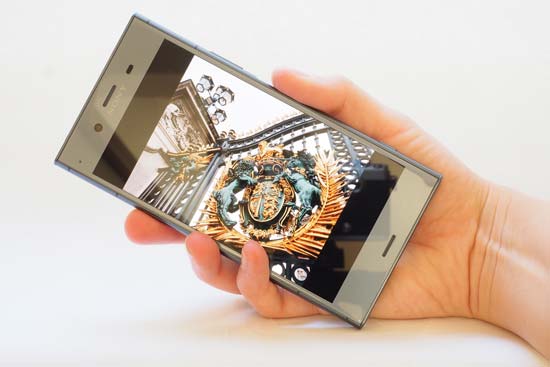 The Sony Xperia XZ1 In-hand
To view images you've taken in playback, tap the preview of your last shot. If you launched the camera from a locked screen, you'll only be able to view the photos you've taken in that current session.
For video, you can shoot up to 4K resolution. The XZ1's display is only capable of displaying Full HD though, so it's only really worth shooting in 4K if you have another display to view it on. This is a marked difference from the XZ Premium which offers a 4K display. Super slow motion video allows you to shoot at speeds up to 960fps. In order to record the super slow motion, you have to tap a button on the screen while it is recording normal video.