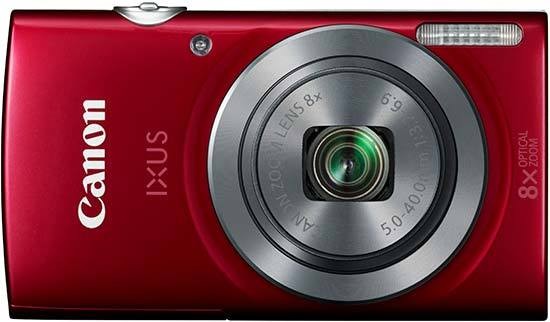 Introduction
Recently introduced alongside the new IXUS 165 and 170 models, the IXUS 160/PowerShot Digital ELPH 160 sits in the middle of Canon's super-slim and stylish IXUS line-up. It boasts a 20MP 1/2.3" CCD sensor and an 8x optical zoom lens with a 35mm-equivalent focal range of 28-224mm, however you don't get proper image stabilisation. The camera will record HD 720p video though, and it includes six creative effect filters to help spice up a bland shot. Other nifty features like blink detection and an automatic self-timer help capture great snaps of friends and family. Available in silver, black, white and red finishes, the Canon IXUS 160 will set you back around £100/$120.
Ease of Use
The IXUS 160 is identical to the IXUS 165, except it does without image stabilisation, saving you around £30. Predictably the existing IXUS 155 costs even less, but weirdly it does sport a stabilised lens and its 10x optical zoom range beats the IXUS 160's 8x optic. Confused? So are we.
Putting aside its dubious value for money, the IXUS 160 still has plenty going for it, starting with that IXUS trademark style. It's sleek 95.2 x 54.3 x 22.1mm dimensions make it comfortably small enough to slip into a jeans pocket, whilst a 127g ready-to-shoot weight means it won't weigh you down either.
Part of the lightness is down to the plastic casing, but this is well screwed together and doesn't flex. You do get a metal tripod mount which is a nice treat, even if a camera like this is unlikely to spend much time tied down. It's a pity the glossy plastic casing won't wear so well though, as it picks up scratches very easily, which are especially obvious on the red version. The shininess also makes the IXUS 160 pretty slippery to hang on to, with no gripping points on the front or back of the camera, apart from the raised lip around the LCD screen.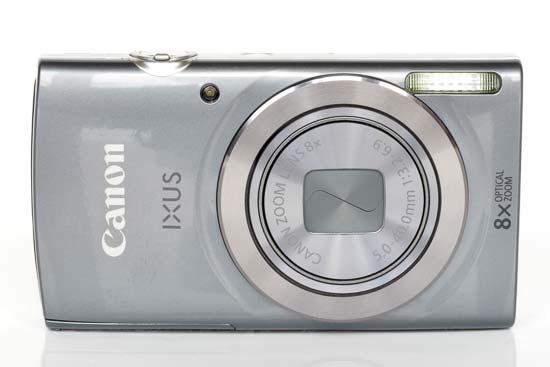 Front of the Canon IXUS 160
The screen itself is bright enough to see under direct sunlight, and colour accuracy is pretty good too, but only if you're facing the monitor square-on. Tip the camera up or down and the screen's restricted viewing angles cause colour and contrast to vary massively. The problem isn't too bad when viewing from the side, but the overall experience is disappointing if you're expecting an improvement over using a smartphone camera. An average smartphone screen also shames the pitiful 230k-dot resolution of the IXUS 160's monitor, though this and the other screen complaints are typical of many compact cameras at this price.
Alongside the screen are several good-sized buttons that don't require you to sharpen your finger nails to use. There's the usual playback, video record and menu controls, but also an intriguing button labelled with a question mark. This accesses the camera's Help menu, where in shooting mode you'll be given a description of the type of scene that Auto mode has detected you're about to capture. You're probably going to want to get on and shoot rather than worry about what the camera is doing behind the scenes, but the Help system is more useful in Playback mode. Here it gives you information like how to navigate, magnify and rotate images, plus plenty more useful tips that make learning the IXUS 160 a little more intuitive. It's certainly easier than getting bogged down with a traditional manual, especially as the IXUS 160 uses Canon's tried and tested menu design that's clear and simple.
Central to the IXUS 160's controls is a normal 4-way directional dial, and within this is the Func/Set button. This is your gateway to the camera's main shooting options which have been separated from the rest of the lesser-used settings contained in the main menu. In Auto mode, the Func/Set button stores options for the self-timer (including a custom mode that lets you pre-set your own time delay and also the number of shots to automatically fire), single vs. continuous shooting (at 0.8 frames per second), image size and video resolution (HD 720p or VGA 640x480).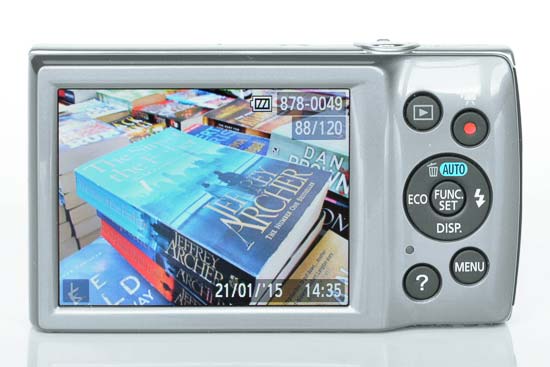 Rear of the Canon IXUS 160
But, press the 4-way dial up and the IXUS 160 switches from Auto to the last-used alternative shooting mode. Now the Func/Set menu includes additional options for controlling light metering (evaluative, centre-weighted or spot metering), white balance (including a custom setting), ISO sensitivity, exposure compensation and focus range. The Func/Set menu also stores the various shooting modes other than Auto, including Live View Control that lets you alter the tone of images and FaceSelf-Timer which starts the self-timer automatically when a face is detected. Low Light mode limits image capture to 5MP to help minimise image noise in photos taken at high ISO sensitivities. Finally, there's the Long Shutter mode if you'd prefer to take night-time shots at low ISO sensitivities and have a tripod to hand.
It's a pity Canon has opted to hide away most of the shooting modes and creative effects in the Func/Set menu, where many similar cameras provide a dedicated mode button. However, it's great that the IXUS 160 does include options to delve in and tweak shooting settings, letting you get the most out of the camera as your photography skills develop.
Other settings controlled by the 4-way dial include the flash, as well as playback and shooting overlays, which include a histogram display. Finally, the IXUS 160 gets Canon's Eco system that helps extend battery life using power-saving measures like switching off the screen faster than usual. This helps boost battery life from a fairly average 220-shot lifespan up to a respectable 300 shots-per-charge.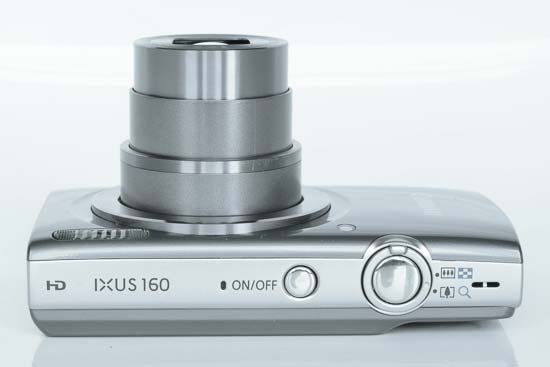 Top of the Canon IXUS 160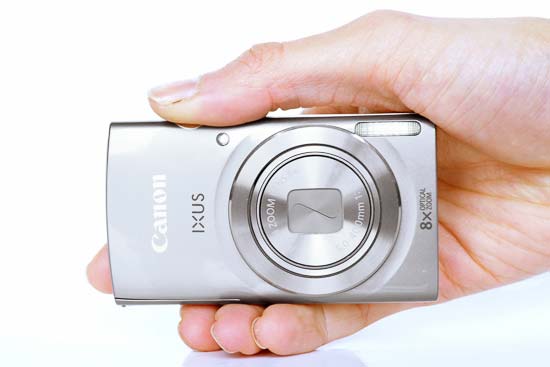 The Canon IXUS 160 In-hand
When it's time to start shooting, the IXUS 160 powers up and fires a shot in a spritely 1.7 seconds. This is partly thanks to the camera's quick focussing speed, which manages to be almost instantaneous in good light and doesn't get too bogged down in dimmer conditions. The autofocus system can come a cropper when you zoom in on a dimly-lit subject though, hunting for a focus point and sometimes failing.
However, the autofocussing is most annoying when trying to shoot a close-up. Sure, the camera has a minimum focus distance of 5cm, but that's only when the lens is set to maximum wide angle. Zoom in just a fraction and you'll have to back up around a foot from your subject before the camera will focus, and a little more zoom requires much more distance. This is a typical trait of compact camera lenses, but the IXUS 160 seems more reluctant than its rivals to focus on close subjects when zoomed in. It's especially annoying when you're trying to avoid casting a shadow over your subject by holding the camera too close to it, but it's also a pain when attempting to use a longer focal length to create an attractive background blur with a shallower depth of field.