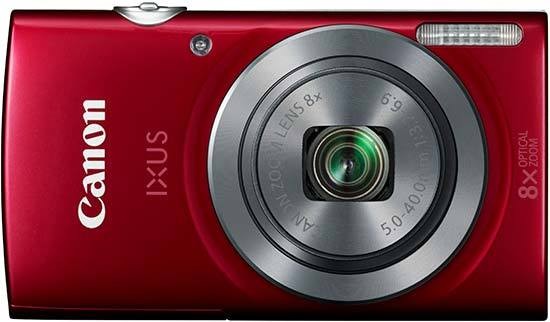 Image Quality
In good light the IXUS 160's 20MP CCD sensor manages to resolve a decent level of detail and reproduces colours with accuracy and vibrancy. Zoom in to 100% images size and you'll see some grain noise even in shots taken in bright conditions, but this is normal for small-sensor compact cameras. What's good is that Canon hasn't chosen to apply more aggressive noise reduction processing to hide this, as that means more distant detail in shots like landscape stays relatively crisp and isn't smoothed to the point of looking painterly.
But it's not all good news, as in dimmer conditions grain noise is much more evident. Even at sensor sensitivities below ISO400, colour speckling is visible in areas of neutral tones, and you don't have to look that hard to spot it. Detail also starts to get smudged at around ISO400, and inevitably things get softer at ISO800. This is really the cut-off point for acceptable image quality, as at the top-most ISO1600 sensitivity images look so soft that they could have been captured at 5MP and crudely enlarged to 20MP dimensions.
Part of the problem is actually down to the IXUS 160's lack of image stabilisation. Without it, the only way the camera can maintain sharp shots is to use faster shutter speeds, but that in turn requires higher ISO sensitivities in order to produce bright images, resulting in shots with more grain and colour speckling.
At least the lens produces fairly low levels of chromatic aberration (purple fringing) in high contrast areas, whilst sharpness is also quite consistent with only minor drop-off towards the corners of frame. Distortion is minimal too, both at the wide angle and telephoto ends of the zoom range.
Noise
The IXUS 160 has a sensitivity range of ISO100 to ISO1600. That's a relatively low maximum sensitivity and some similar cameras will go higher, but often excessive image noise at such settings make them almost unusable.
| | |
| --- | --- |
| ISO 100 (100% Crop) | ISO 200 (100% Crop) |
| | |
|   |   |
| ISO 400 (100% Crop) | ISO 800 (100% Crop) |
| | |
|   |   |
| ISO 1600 (100% Crop) |   |
| |   |
Focal Range
The camera's 8x optical zoom lens gives you a focal range of 28-224mm (in 35mm-camera terms). Canon's ZoomPlus feature can double this to 16x without considerable detail loss, whilst an additional 2x conventional digital zoom will give a combined maximum 32x zoom, albeit at the expense of image quality.
| | |
| --- | --- |
| 28mm | 224mm |
| | |
Macro
A 5cm minimum focussing distance means you can capture a decent close-up shot, but this figure only applies when the lens is set to maximum wide angle. Zoom in just a fraction and you'll need to pull back to around 30cm from your subject, and any extra zoom requires you to be at least a metre away.
| | |
| --- | --- |
| Macro | Macro (100% Crop) |
| | |
Flash
The camera's built-in flash includes four modes: Auto, On, Slow Synchro and Off. There's no conventional red-eye reduction where the flash fires multiple times, so instead you get a red-eye correction feature which needs to be activated via the camera's main menu. This digitally removes red pupils, and in our testing it did a fairly good job, though minor amounts of red-eye can go undetected.  Shooting a white surface from a distance of 1.5m revealed that the flash can produce noticeable wide-angle vignetting.
| | |
| --- | --- |
| Flash Off - Wide Angle (28mm) | Flash On - Wide Angle (28mm) |
| | |
|   |   |
| Flash Off - Telephoto (224mm) | Flash On - Telephoto (224mm) |
| | |
We did get some red-eye when taking portraits. Using the red-eye correction function does reduce it, but a correction system suggests it removes it. However, it does this digitally, so will be programmed to look for certain colours and it's quite possible that this was outside of the gamut.
| | |
| --- | --- |
| Flash On | Flash On (100% Crop) |
| | |
|   |   |
| Red-eye Correction | Red-eye Correction (100% Crop) |
| | |
Night
Activate the IXUS 160's Long Shutter mode and the camera will lower the ISO sensitivity and record using a longer shutter speed; in this instance it was one second. You'll need to use a tripod to hold things steady, or you can try and wing it like this shot, balance the camera on some railings and end up making a mess of it!
| | |
| --- | --- |
| Night | Night (100% Crop) |
| | |
Effects
Six filter effects are hidden away in the IXUS 160's functions menu. These are: Fish-eye, Miniature, Toy Camera, Monochrome, Super Vivid and Poster. All are previewed live and recorded at full resolution.
| | |
| --- | --- |
| Fish-eye | Miniature |
| | |
|   |   |
| Toy Camera | Monochrome |
| | |
|   |   |
| Super Vivid | Poster |
| | |