Fujifilm FinePix XP200 Review
August 8, 2013
|
Matt Grayson
|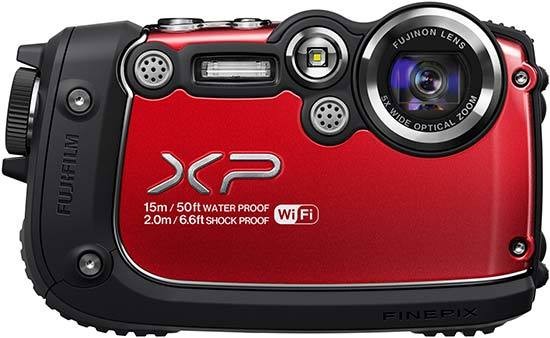 Conclusion
The Fujifilm FinePix XP200 is a nice camera to use. It's not delicate, by all means, and needs a little bit more oomph to get it working, but that's the waterproof seals under the buttons that are to blame. We like the design of the camera and the bright colours are attractive and easy to see in the gloomy depths of the Manchester Ship Canal if you drop it while scuba diving. We're unsure that the size of the buttons will be easy to use if you're wearing diving gloves, so putting the camera into one setting in advance then just using the large textured shutter release button would be the best compromise. But then, why should you have to compromise? If you buy a camera to do a job, should it be able to allow you to perform that job easily?
As land-lubbers, we're not sure as to how easy or difficult it would be in reality, so we'd have to get feedback from a user to make an educated opinion on it. In the dry, the Fujifilm FinePix XP200 is competent in picture quality. The colours are realistic and the edges are sharp. Noise is an issue relatively early, but no more so than we'd expect. It's certainly not the worst we've seen from a rugged camera.
The Fujifilm FinePix XP200's price is a little on the high side these days, we were expecting around the £200 / $250 mark. Still that will fall in time and you do get wi-fi fitted in to make travelling with the camera a lot easier. The resistance has been increased as well with a 2m drop tolerance and 15m waterproofing. That's 0.5m higher than others can be dropped and a minimum of 5m deeper that you can swim. There's also the new wi-fi PC Auto Save feature that's exclusive to this camera in the Outdoor range.
As far as tough cameras go, the Fujifilm FinePix XP200 is up there with the best. It offers new tech, high tolerances and a good picture quality. Lens quality could be improved upon, but only on the mitigating factors (periscope mirror and external lens pane). This would be a great camera for travelling around with. You can use a wi-fi signal to transfer your pictures as you go. No need to plug into an internet cafe. You can update friends and family as you go just by using your phone's wi-fi signal.
Why not just use your phone? There are waterproof ones after all. Well, it all boils down to image quality. If you're going on a journey of a lifetime, a camera phone won't give you the image quality you need in all photographic situations. The flash won't be as intelligent and the dynamic range will be much more limited. For those reasons alone, you should look at a camera like the Fujifilm FinePix XP200.
Ratings (out of 5)
Design
4
Features
4.5
Ease-of-use
4
Image quality
4
Value for money
3.5