Introduction
The P20 Pro is the latest flagship smartphone from Huawei. It is the world's first smartphone to use a triple-camera setup, which have been designed in conjunction with premium photography brand, Leica.

It follows on from the P11, jumping to the larger number in order to signify a jump in technology, particularly in reference to the camera/s.

As well as the P20 Pro, Huawei also launched the P20 and the P20 Lite at the same time - only the Pro has the three lens setup. The main camera is a 40 megapixel RGB lens, which is joined by a 20 Megapixel Monochrome lens, which is used to add detail (and can also be used standalone in Monochrome mode). Finally, there's also an 8 megapixel sensor with a 3x (80mm equivalent) lens, which you can use to "optically zoom".

With this phone, Huawei are targeting photographers more than ever before. Not only are there three lenses, there are lots of other specifications which are likely to appeal to those with a keen interest in photography. You can shoot in manual mode, as well as in raw format, while the standard shooting mode uses Artificial Intelligence to recognise the subject and apply the most appropriate settings to get the best shot - we've seen this before in the Huawei Mate 10, but there is now at least 500 recognisable scenarios in 19 different categories.

The Huawei P20 Pro will be available for around £799 if you buy it sim free. Many networks are also offering various deals if you take out a monthly contract.

Let's find out if the P20 Pro really is the ultimate smartphone for photographers…
Ease of Use
Huawei has gone for an extremely stylish design with the P20 Pro, giving it beautifully rounded edges, a symmetrical look and using very shiny material. It is available in black, blue, pink and twilight - the latter two are gradients, rather than a solid block of colour. The only downside of the sleek design is that the device is very slippy - placing it on a smooth surface (such as a sofa) makes it prone to falling off - we'd certainly recommend purchasing a case if it all possible.
The Huawei P20 Pro is just 7.8mm thick, but despite this, Huawei has managed to squeeze in a high-capacity 4,000mAh battery. In practice this lasts at least a day with heavy usage, but you can eek out even more if you're using it more lightly.
As is the fashion for most modern smartphones, the Huawei P20 Pro has been designed to have the least amount of bezel possible. At the top of the screen it uses a notch, rather like the iPhone X, to house the selfie camera. Unlike the iPhone X however, the notch is much smaller, leaving more room either side of it for notifications to appear.
The fingerprint scanner is found on the bottom of the the screen, which is a different from the Mate 10, which has the fingerprint screen on the back of the phone. Whether you prefer it at the bottom of the screen or on the back is down to personal taste, but it feels a little more awkward to use than the Mate 10 as your finger naturally rests on the back of the phone anyway. You can also set up the phone to recognise your face to unlock the phone.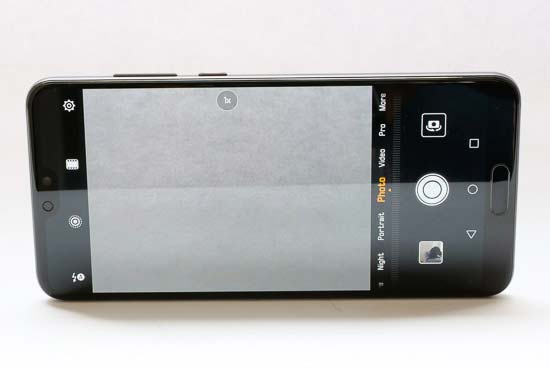 Front of the Huawei P20 Pro
The three camera lenses are found together in the top left corner of the back of the Huawei P20 Pro, which is something to bear in mind if you are holding the phone as you might an ordinary camera.
From the lock screen, you can activate the camera by swiping up from the bottom right hand corner of the screen. You'll be able to take as many photos as you like, but you'll only be able to see images you've taken in your current shooting session - fully unlock the phone to see the rest of your images. Alternatively "Ultra Snapshot" mode can be activated by double pressing the volume down key - the camera will launch and take a shot in as little as 0.3 seconds.
Once you have launched the camera app, you'll be met with a variety of different shooting options. By default, you'll shoot in "Photo" mode, which uses AI to assess the scene in front of it. It seems to do a pretty good job of accurately judging various subjects - I've used it with my dog, in landscapes (blue skies, greenery or beach are three that I've seen it identify), with flowers, food and so on. The only subject which seems to have confused the phone is white blossom, which the AI believed to be snow.
To take a photo you can either use the on-screen shutter button, or use either of the volume up or volume buttons - this can be particularly handy if you're using the selfie camera and holding the camera at a distance.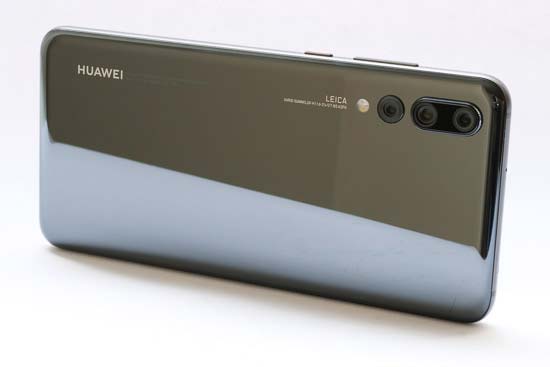 Rear of the Huawei P20 Pro
If you want to access different shooting modes, you can do that by swiping along the bottom of the screen. Here you can access Aperture (which mimics a shallow depth of field effect), Night (which allows you to shoot long exposures handheld), Video, Pro (which gives you access to a number of different shooting parameters) and More. If you scroll to the More option, you'll be taken to a second screen where you can choose from a variety of different options including Slow-Mo, Panorama, Filter, Light Painting, Time-Lapse and so on. We'll discuss each of the main options in turn.
For Aperture mode, you can use a slider to move between the widest available aperture of f/0.95, up to f/16. Unlike the Samsung Galaxy S9, this isn't physically altering the aperture of the lens, but rather recreating the effect of using different apertures by using the dual lenses in combination with each other. This works in pretty much the same way as the iPhone X does.
With Night Mode, you can select an ISO and a shutter speed, or you can let the Huawei P20 Pro decide for you based on what it thinks is best. When you tap the shutter release button, you'll see that the camera starts taking a long exposure (usually at least four seconds), that builds up on the screen - you don't need a tripod to use this mode.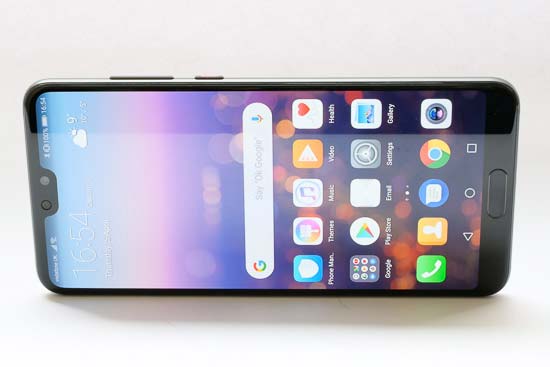 Front of the Huawei P20 Pro
Portrait Mode is similar in essence to Aperture mode, only this time, you don't have access to change the "aperture", but you get the same shallow depth of field type effect for your portraits. For this mode to work, you need to be pointing the camera at a face (or something which resembles a face). You can choose different "Lighting" effects, such as "Soft Lighting", or "Stage Lighting". You can also set the "Beauty" level, which in essence smoothes skin for a more flattering appearance. Stick with zero if you prefer a more natural look.
In Pro mode, you can choose your own metering mode, ISO, shutter speed, exposure compensation, white balance and focusing mode. You can't alter aperture, since this is fixed by the lens. In this mode, you're also able to shoot in raw format - to switch this on, click the cog icon in the top right hand corner of the screen and set the RAW format toggle to on. If you choose to shoot in raw format, you won't be able to use the zoom lens  - if you want to use the 3x zoom, or 5x hybrid zoom, you'll need to switch raw off. This is a bit of a faff, and is a shame considering you're using a different lens, not trying to perform a digital zoom.
For Video mode, you've got a few different options. By default, the phone shoots in Full HD at 30fps. With this, you can use image stabilisation. You can switch to shooting at 4K (30fps), or Full HD at 60fps, but with these options, you lose out on stabilisation. Slow-mo Video can be accessed from the "More" panel. With this option, you can shoot at 4x, 8x or 32x slow motion - the first two options let you keep shooting for as long as you like, while the 32x option records just a second of footage before stopping automatically.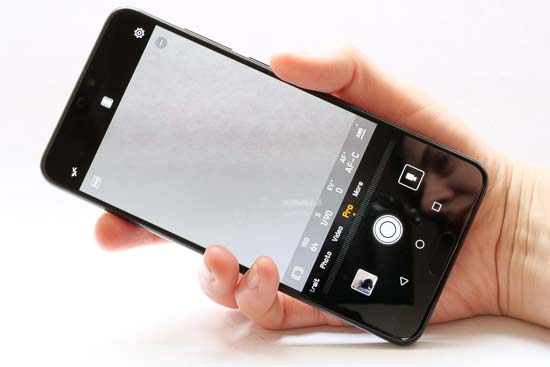 The Huawei P20 Pro In-hand
As already mentioned, in the top right hand corner of the screen, you'll see a cog icon. You can tap this to access various settings, which will vary depending on the shooting mode that you're in. For example in Pro mode, you've got the raw option, but you can also choose other things like different resolutions, adding a GPS tag, a watermark, assistive grid and so on. Interestingly, in the Pro menu, you have the option to switch on a Horizontal level, which helps in getting your landscape images straight. This level will occasionally pop up in the standard Photo option too - if the camera detects that you're shooting a Landscape. Sadly, you can't opt to have it on all the time in Photo mode, which would be useful.
The standard shooting resolution is 10 megapixels (3648 x 2736, in 4:4 ratio). If you prefer, you can alter this to the much higher 40 megapixel resolution (7296 x 5472, also in 4:3 ratio), but this will of course take up much more space on your device. You also won't be able to use the zoom  lens if you choose this option (as the zoom lens only has an 8 megapixel sensor behind it).
It's also worth mentioning the excellent Monochrome mode, which is accessed via the More tab. If you select this, you can choose to shoot in "Normal" (Auto), Aperture mode, Portrait mode or Pro mode. Sadly, in Monochrome Pro mode, you can't shoot in raw format, which is a bit of a shame - but - being as it is using the dedicated monochrome lens/sensor, you still wouldn't be able to retrieve a colour version of the file from it anyway.