Nikon Coolpix S6800 Review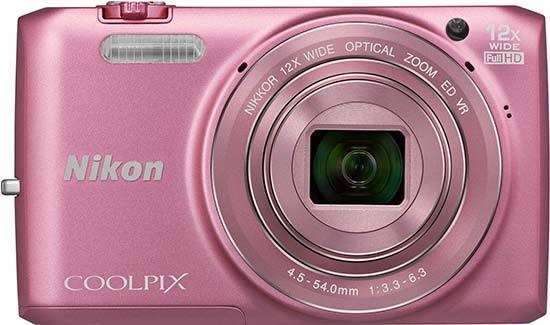 Introduction
If you're in the market for a sleek, stylish and high-performing compact camera, then Nikon's S-series – aka 'Style' – may be a good place to start. The S6800 sits near the top of the range at £199.99 / €239 / $219.95 and packs a 12x zoom lens into a svelte body just 96.8 x 57.5 x 22.9mm in size. The lens boasts a focal length equivalent to 25-300mm in 35mm camera terms and includes lens shift Vibration Reduction to tame the effects of camera shake. Inside is a 16-megapixel CMOS sensor with a sensitivity range of ISO 125-6400. You also get Full HD video recording, HDR capture, an Easy Panorama mode and on-board Wi-Fi. The camera's Smart Portrait mode and Glamour Retouch effects ensure great shots of friends and family, and you'll look the part too as the S6800 comes in red, white and pink finishes, as well as the usual black.
Ease of Use
The trusty compact camera has been facing tough times in recent years thanks to the popularity of smartphone cameras, but the Coolpix S6800 has a lot going for it. For starters it's small. To put the raw measurements into perspective, its length and width are comfortably less than an iPhone 4s, and the S6800 is only around twice the phone's thickness. Yet despite these pocketable proportions, you still get a very handy 12x optical zoom reach with a respectable 25mm-equivalent wide angle capability. Only the Samsung Galaxy S4 Zoom can offer close to this level of optical flexibility in the smartphone world.
Although the S6800 comes from the Coolpix Style series, Nikon has shaped it to be sleek rather than stand-out. The predominantly metal skin is nicely rounded so the camera easily slips into a pocket or clutch bag. However, being this sleek does make it tricky to hold securely, especially as there's no front finger grip and only the raised video record button on the back to keep your thumb in place.
Given the camera's compactness and sizable 3-inch screen, it's a good job there are so few buttons on the S6800. Those you do get are reasonably large and easy to press and include a dedicated video record button. Below this are the usual mode, menu, playback and delete buttons which flank a directional dial that also controls the flash, exposure compensation, macro focus and the self-timer. Move round to the side and a small flap hides an HDMI output and a USB port-cum-mains charging input. Underneath is a small door covering the battery and SD card compartment, though the positioning of the latter does make it quite tricky to insert and eject. We were also a little miffed that the sexy pink paint on our test camera quickly showed signs of wear on this compartment door.
| | |
| --- | --- |
| | |
| Front | Rear |
For a camera aimed at the style-conscious, it's perhaps a little disappointing that the S6800's screen isn't touch-sensitive and is also fixed, so you won't be having any flip-out fun to help snap selfies. This isn't helped by the screen's limited vertical viewing angles, which is especially problematic when trying to compose high-angle shots as contrast is severely reduced. The display's 460k-dot resolution is also pretty average and a far cry from the current crop of smartphone screens, though screen brightness is quite high.
The S6800 wastes no time in starting up, being ready for action in around one second. After that you'll be able to focus on your subject almost instantly in good light, however the autofocus system does get rather sluggish in dimmer conditions, often requiring a frustrating couple of seconds to find its mark. The default Smart Auto mode on most Coolpix cameras also seems to have some trouble with close up shots, often refusing to focus at or near the camera's 2cm minimum focussing distance. To reliably macro focus you'll need to switch to the regular Auto setting and manually engage macro mode.
Fortunately making such adjustments isn't too tricky thanks to Nikon's basic but clear menu system. It's easy to read and operate in extreme conditions, although there is a slight lag between a menu input and the camera actually responding.
| | |
| --- | --- |
| | |
| Front | Side |
Delving through these various menus also reveals plenty of continuous shooting modes. There's a clever Best Shot Selector function where the camera will automatically select the sharpest shot from a burst of frames. Alternatively you can choose the standard continuous mode which will fire at up to 9.4fps at full resolution, albeit only for 7 frames before the memory buffer needs a good 10 seconds to refresh. If that's not enough then you can opt to lower the image size and shoot for up to a 50-shot burst at 120fps.
Failing that there's always the Full HD video mode. This shoots 1080p resolution at 25fps, or you can downgrade to 720p or 480p to save storage space. Also useful is the Wind Noise Reduction setting which does noticeably boost audio clarity in such situations.
Other extra features are the Easy Panorama mode which does a pretty good job of automatically and seamlessly creating a panorama as you pan the camera, but reduces the final image size to just 920 vertical pixels and destroys detail in its wake. Being restricted to a choice of either 180 or 360-degree pans is also annoying.
| | |
| --- | --- |
| | |
| Top | Battery Compartment |
Nikon's Smart Portrait feature is more impressive though. This dedicated shooting mode utilises the camera's face detection technology to automatically detect whether your subject is smiling or blinking, and only fires the shutter at the ideal moment. Then just to ensure he or she looks extra special, the camera automatically fixes any red-eye, optimises image contrast and softens skin complexion to one of three possible levels.
If you forgot to activate the Smart Portrait mode but fancy touching up a photo taken using a different mode, then all is not lost thanks to the S6800's Glamour Retouch trick. Simply scroll through your photos to one which contains a face and the camera detects the face's location in the shot and offers up a host of editing options to whiten teeth, hide any bags under the eyes or even apply different coloured eye shadow. It all sounds a bit gimmicky, but you'd be surprised how effective the results can be, provided you don't take things too far!
Last but not least is the S6800's Wi-Fi ability. Just download a companion app for iOS or Android devices and away you go. The system enables you to browse and transfer photos, but also use your mobile device as a remote control for the camera so you can snap shots from a distance. You'll need the S6800's battery to be fully charged though, as otherwise the camera automatically severs the wireless connection. Even with plenty of power the iOS app had trouble accessing images on the camera though and disconnections were frustratingly frequent.