Apple iPhone 12 Pro Max Review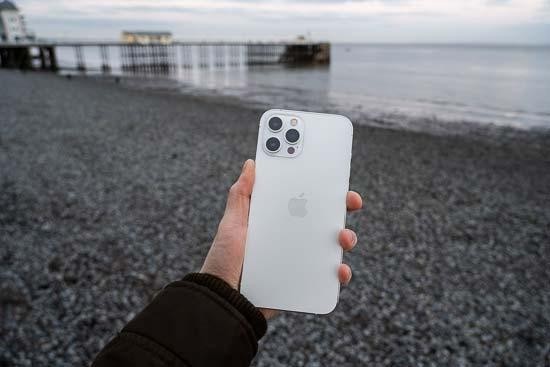 Introduction
This year's new iPhone announcement brought us not one, but four different models. Designed to appeal to different customers, in terms of the specs, the best of the the quartet is the iPhone 12 Pro Max, which has a number of appealing camera features.

In previous years, both the 'Pro' model and the 'Pro Max' model have featured the same camera setup, but this year, Apple has diverted a little from the usual path to bring a different setup for the larger model.

Compared to the iPhone 12 Pro, the Max brings with it a larger sensor for the main camera, a 2.5x zoom lens (as opposed to a 2x lens), and of course, this being the Max, a much bigger screen and overall size. We think it's likely that the iPhone 12 Pro will be the most common device bought by the average consumer, but for photographers looking for the best of the best, they'll probably be wondering whether they should consider spending a little bit more to get the Max model.

So to give a little bit more detail about those cameras; you get a standard (1x) lens offering an equivalent of 26mm, with an f/1.6 aperture, alongside a telephoto (2.5x) offering - 65mm equivalent, with an f/2.2 aperture, and an ultra-wide angle lens (0.5x) - 13mm equivalent, with an f/2.4 aperture. It's important to note that behind the 26mm lens, there's a larger sensor than that found on the iPhone 12 Pro, while it also benefits from sensor-shift optical image stabilisation, which the standard version does not offer.

Other key features for the iPhone 12 Pro include Portrait mode, Panorama mode, Night mode portraits and the introduction of Apple ProRAW. This function is not available as standard at the time of writing, but you can access raw shooting by installing Apple's public beta of iOS 14.3, which suggests that the full release is fairly imminent.

As well as these features, there's been a number of other improvements when compared to last year's iPhone 11 Pro / Max. Two of the camera improvements include the addition of Dolby Vision HDR video recording up to 60fps, plus a LiDAR scanner, which is said to improve portraits taken in Night mode, as well as boost the speed of focusing in low light scenarios.

There are other improvements which are worth considering over last year's 11 Pro Max, which have little to do with the camera. The biggest of those is the addition of 5G compatibility, which gives you super fast downloads, plus high-quality streaming. You will need to use the phone in an area which has 5G coverage, as well as have a provider that includes it as part of your SIM/contract deal.

In terms of size, the iPhone 12 Pro Max is larger than the iPhone 12 Pro, but compared to the iPhone 11 Pro Max, while it is a couple of mm taller than its predecessor, it's narrower and slimmer. It weighs the same as the older model. The screen also now includes a Ceramic Shield front, which is designed to 4x better at withstanding drops - good news for anyone with a clumsy disposition. It's also slightly more water resistant than before, too.

The as-standard storage capacity of the iPhone 12 Pro Max has been increased from last year's models. You now get a minimum of 128GB (compared to 64GB last year). You can also purchase 256 and 512GB models - remember with Apple products, there's no way to physically increase the storage capacity.

Those who are new to Apple products might want to consider that a charging cable or headphones are no longer included in the box when you buy the phone. Apple says this is to reduce waste, since many people buying the product already have these items - but it's something to consider if you are either new or have lost/damaged your existing chargers/headphones. A Lightning - USB C cable is included in the box, which means you don't even get a 'standard' USB charger, either.

At the time of writing, the iPhone 12 Pro Max price is £100 more than the standard iPhone 12 Pro, starting at £1099 for the 128GB version, rising to £1,399 for the 512GB version. There are four different colours to choose from; Graphite (black), Silver, Gold and Pacific Blue.
Ease of Use
Although each iteration of iPhone may be slightly different in terms of aesthetics, Apple tends to keep its designs fairly similar year on year. The biggest news for the iPhone 12 series is the re-introduction of a squared off / angular design, which means that the edges are flat, rather than rounded off. This gives it a more utilitarian appearance, but a - perhaps unintended - benefit for photographers is that you can balance the camera on its side on a sturdy surface.
As a Max model, you of course expect the iPhone12 Pro Max to be large. Whether you consider that a good thing or a bad thing will likely depend on personal preference. It's great for viewing your photos, using apps or watching videos etc, but it's less ergonomic when doing things such as texting or calling - especially if you have smaller hands. It's also quite difficult to fit the iPhone 12 Pro Max into a small jeans pocket - which may or may not be a deal breaker depending on your point of view (or size of your pockets).
In terms of using the iPhone 12 Pro and the iPhone 12 Pro Max, the two devices are largely the same. The phone's native camera app can be launched directly from the lock screen, simply by holding down the camera icon.
If you've already unlocked the phone, you can tap the camera icon found at the bottom right hand corner of the screen, or, if you hold down the camera icon, you'll have the option to choose from a number of different options; Take Portrait Selfie (shoot with the front-facing camera, with portrait mode enabled), Take Portrait (portrait mode, but with the rear-facing camera), Record Video and Take Selfie (the front facing camera in its standard mode). By default, the native app will launch in the standard mode.
If you find that you're often using a particular mode, or with particular settings enabled, you can head into the iPhone's main menu and set the camera to remember the last-used settings. For most people, they'll probably find that most photos are taken with the standard Photo mode, though.
Apple is well-known for the simplicity of its native camera app, and while there are a few more options than you would have found a few years ago, it's still a relatively simple affair. That can be considered a good thing, as it means there's not lots of different settings to get to grips with, but advanced photographers can find it a little frustrating to not have greater control.
If that's a problem you have, you can rectify it quite easily with a large number of different advanced camera apps available that give you such control - but you won't be able to access any of those apps directly from the home screen for quick shooting.
Despite its simplicity, there's a number of different features to take note of and understand. You can move between the various shooting modes by swiping left or right on the screen - alternatively, you can tap the words which represent the different modes. You'll find the stills modes to the right of Photo; Portrait (shallow depth of field effect) and Pano (panorama). To the left are the video options, which are Video, Slo-Mo (slow motion), and Time-Lapse.
In the standard Photo mode, you'll see the different iPhone lenses which you can choose between, displayed at the bottom of the screen. There's 0.5, 1 and 2. Whichever lens you have selected will add an x to the number, as well as turn the lettering yellow. At the top of the screen, you'll see a few icons, including a flash icon which you can set to on or off, and the Live Photo icon, which looks like a bullseye.
If you switch this setting on, you'll record a short video clip with every still image you take. If you're shooting in low light, the Night mode icon will also appear - this is not something you can manually select, it only appears if the phone believes there's not enough light in the scene.
A new feature for the iPhone 12 Pro mode is the addition of raw format shooting. You will first need to enable the format from the iPhone main menu. The format options also give you the choice between 'most compatible' (JPEG) or 'High Efficiency' (HEIF), for your non-raw files.
It's worth switching to most compatible if you think you're likely to be exporting and sharing your files regularly, but High Efficiency is good for those who like to take a lot of shots - you can always convert individual files to JPEGs if necessary. By enabling Apple ProRAW, the phone will capture DNG files which give you greater scope to edit them in post-production.
Going back to the camera app, if you have raw shooting enabled, you'll now also see a RAW icon at the top of the screen. By default, raw is switched off - indicated by a line through the word 'RAW'.
You'll need to remember to switch this on if you want to create a raw file. This is perhaps a bit of a faff, but it saves you from taking up lots of space on your phone when just taking ordinary snaps or record shots.
Once you activate raw shooting, then Live Photos will automatically be switched off - so you have to make a decision about which you'd prefer. It's also worth noting that the phone only records one type of file at a time - not raw and JPEG/HEIF simultaneously. The knock-on effect of that is that some applications won't work with images you've taken - such as Instagram.
It's possible that this issue will be rectified when the full version of the iOS software is released and/or Instagram updates its app to accept DNG files. If you want to upload an image to Instagram, you'll need to convert it to JPEG first.
In the middle of the top of the screen, you'll see a small arrow. You can either tap this, or swipe upwards on the main screen to be shown some extra settings which you can adjust. There's flash again here, which gives you further control to set between 'Auto', 'On' and 'Off', as well as the same options for Live Photos. You can also choose a different aspect ratio from the standard 4:3, with 16:9 and 1:1 options also available.
A relatively new addition is exposure compensation - this is also available for older iPhones running the latest iOS. There's a timer option, which allows you to set a self-timer of either 3 seconds or 10 seconds, while finally there's an option for adding different filters to your images.
If you are shooting in Night mode, then a Night mode icon will also appear - from here, you an adjust the length of time the phone will shoot for - perhaps selecting longer if you have some way to steady the phone. If you've got RAW enabled, you'll also see the raw option here too.
When it comes to focusing, you can either let the iPhone decide for itself where it wants to focus, or you can tap around the screen to select a different focus point. Tapping at different points will also affect metering, so it's useful if you're presented with a high-contrast scene and you need to find the point at which the light is balanced most pleasingly.
You can also lock metering by holding down your finger on the screen, after which you can choose a different focus point - this is most useful if you're shooting close-ups, where a different focus point is most useful.
After tapping a focus point, you will also see a sun icon appear. When it does, sliding your finger up and down the screen will adjust exposure, making the scene darker or lighter - it's essentially a quicker / different way to access the exposure compensation option from the pull-up menu.
A particularly useful feature which first made an appearance with the iPhone 11 series is the ability to show you what's outside the frame that you're shooting. The phone does this by making use of whichever lenses you're not shooting with at the time.
For example, if using the 1x lens, it will use the 0.5x lens to display what's going on either side of your composition. The same happens if you're shooting at 2.5x, with the 1x lens used to show you either side of the frame. You won't see anything when shooting with the 0.5x lens, since obviously the camera can't get any wider. This setup is particularly handy if you're trying to avoid people in your shot, for example.
You can also set the phone to record this extra data and keep it ready for adjusting your photos in the editing section of the phone - the data will only be kept for 30 days as standard unless you use it.
Portrait mode is something we've had on iPhones for a few generations now, with each version promising to be a little better than the last. Despite its name, you can use it for other subjects too - with varying results. You can use either the 1x or 2.5x lens for your portraits, with the 1x option being most useful for including more of the subject's background / context.
If you activate the swipe up menu, again you'll get a few extra options to choose between ,including flash, exposure compensation, timer, filters, and the choice of a different aperture (effect). The widest available here is f/1.4, and the narrowest f/16. If you don't make a choice, then the phone will automatically select one for you.
Different 'Lighting' effects can also be activated, so you have Natural Light, Studio Light, Contour Light, Stage Light, Stage Light Mono and High Key Light Mono. These are all worth trying out if you have a particular fondness for that type of effect.
A new addition for Portrait mode, for the iPhone 12 series, is the ability to combine it with Night mode. Once again, this is not something that you can choose to manually control, but rather something that will automatically activate once the phone believes there is not enough light in the scene.
Once you've taken your Portrait, you can edit it in playback. This gives you the option to choose a different aperture, or a lighting effect. This is very useful if it's not quite come out the way you want it to - it's not possible to choose a different focus point, however, which is perhaps a little disappointing.
Other editing options are available - for Portrait shots or otherwise - including the ability to adjust exposure, contrast, highlights and so on. More basic edits, such as rotating, cropping and adding filters are also there. If you have been shooting in raw format, these edits are available in the phone itself, or you can of course use something like Photoshop on your computer to make further edits.
If you've been shooting with Live Photos enabled, there are further editing options available, which can be useful. You can choose a different frame, if perhaps the one you chose at the time of editing wasn't quite what you were hoping for. You can also create special effects, such as the effect of a Long Exposure, which is created by blending together several frames from a Live Photo.
When using the Video mode, there are fewer shooting options available. You can switch the flash on or off (or set it to auto in the swipe up menu), and you can also add some exposure compensation. Frame rates and resolution can be set at the top of the screen - tap 4K, and it'll switch to HD, and vice versa.
If you tap the number (60), it'll flip between the different frame rates available - 24, 30 and 60 for 4K, or just 30 and 60 for HD. If for some reason you want to shoot in 720p, that's something you'll have to switch on from the phone's main menu. Any of the three lenses can be used to record video, and you can also switch between them while recording.
In order to activate Dolby HDR video recording, again, you'll need to head into the phone's main menu. Dolby HDR can only be viewed on compatible devices, such as other iPhones, and Macs running the Catalina OS or later. It's therefore worth considering whether or not you want to switch it on - or perhaps just switch it on for certain videos.
If you're shooting Slo-Mo, you can either shoot at at HD or 720p, at either 240 or 120fps. Once again, the different options can be accessed by tapping at the top right hand corner of the screen.