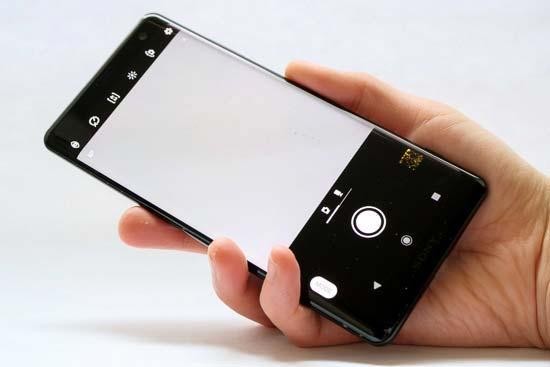 Introduction
Sony's latest flagship smartphone, the Xperia XZ3, draws on some of the features of the tech giant's other products. Although Sony has been in the phone market for some time, recently it hasn't proven to be much of a competitor for Apple, Samsung, Huawei and even smaller (phone) brands like Google.

Despite it being a flagship phone sitting at the top of Sony's line-up, the Xperia XZ3's price feels more like a mid-range offering. It costs around £699 in the UK, and is also available on a range of different contracts at various price points. For this review, we were kindly loaned the Sony Xperia XZ3 by Vodafone UK, who offers the phone along with a number of different contracts.

One of the key features of the phone is its HDR OLED display, which uses the same technology as Sony's range of televisions.

In terms of specifications that appeal to photographers, the Sony Xperia XZ3 has just a single 13-megapixel 1/2.3-inch sensor on the back, coupled with a 25mm f/2.0 lens. It is joined by a camera on the front of the phone, which is also a 13 megapixel device, but slightly smaller in physical size (1/3.06") and comes with a 23mm lens.

Other features include 4K HDR recording, a Pro mode and Predictive Capture. Another useful feature is the capability to increase the phone's memory by adding a microSD card.
Ease of Use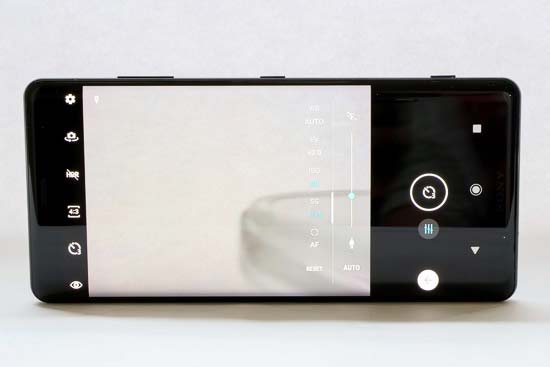 Front of the Sony Xperia XZ3
In the past, Sony's Xperia phones have been a little on the blocky, or utilitarian, side. With the Xperia XZ3, Sony has produced something a little sleeker than we're used to (from Sony) with curved, rounded edges and a very shiny surface. The result is quite a stylish device that competes well, looks-wise, with some of the other sleek models on the market – like the Samsung Galaxy S9 and the Huawei Mate 20 Pro.
A nice feature of the phone is one of the options for starting the native camera app. The phone will detect when it is lifted into a picture-taking position, launching the camera app for you – you'll simply need to tap in the middle of the screen to confirm that you want to take a picture. This only seems to work if you're holding the phone in a horizontal, landscape position, but never-the-less it's a great and natural way to quickly start the app.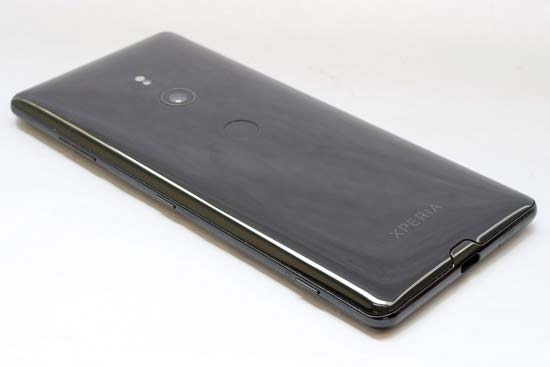 Rear of the Sony Xperia XZ3
Otherwise, you can launch the native camera app directly from the Sony Xperia XZ3's lock screen by swiping up from the bottom right of the screen. As we've seen before with Sony phones, the native app is pretty well featured, giving you lots of scope to change settings and so on.
As standard, the app will launch in the generic "photo" mode. Even in this mode there's a couple of different options to take control of. You can adjust white balance as well as exposure compensation using sliders accessed by tapping an icon, which looks like a sun. You can also adjust aspect ratio, with choices between 16:9, 4:3 and 1:1. There are also options to engage a self-timer, as well as switching the flash to a number of settings including auto, fill, red-eye reduction and off.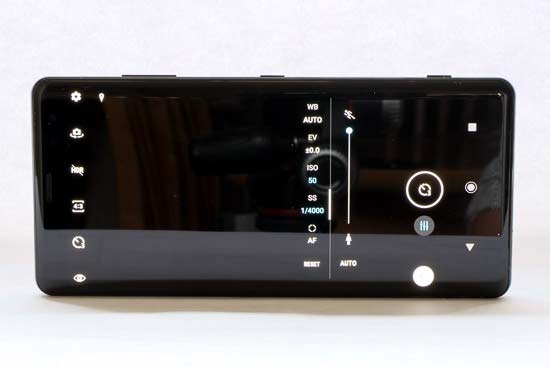 The Sony Xperia XZ3 's Camera Mode
If you tap a cog icon in the top right hand corner of the screen you can bring up a number of additional options for this shooting mode. That includes switching Predictive Capture on and off, switching on Object Tracking, adding Grid Lines for composition and so on. If you're shooting in a different mode, the options available in this submenu vary, to include additional options for the Pro mode for example.
If you want to shoot video, you can select the video icon towards the bottom of the app. Again, you'll have options to change a variety of settings in the cog menu – for video, that includes resolution (up to 4K is available), object tracking, SteadyShot (image stabilisation) and so on.
To change to a different shooting mode, press the Mode button – but note you'll have to unlock the phone to choose a different mode, which is a little annoying when you're quickly working. A number of different shooting modes are available, including Portrait Selfie, Bokeh, Slow Motion, Manual, Creative Effect and Panorama.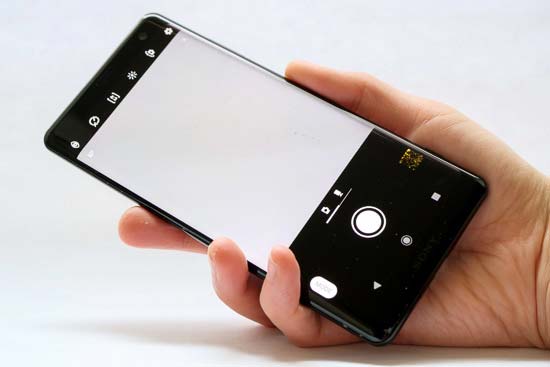 The Sony Xperia XZ3 In-hand
Bokeh mode allows you to create fake shallow depth of field effects. Since the Sony Xperia XZ3 uses just one lens, it does this by taking two pictures in relatively quick succession and merging the two together to create the appearance of a limited depth of field. Because it takes two pictures, it doesn't work overly well with anything that is likely to move in between the two shots – such as pets, and even people you'll have to persuade to stay as static as possible. It's better suited to shooting still life, such as food and the like.
By selecting to shoot in Manual mode, you'll get a lot more options for changing settings, which is good news for enthusiasts. In this mode, you'll be able to alter AF mode, shutter speed, ISO, exposure compensation, metering and white balance by tapping each of the parameters then using a slider to make changes. You'll also be able to switch HDR on or off, and again change aspect ratio, switch on a timer and choose different flash options. One disappointment here is that there appears to be no form of raw format shooting available, unlike several other Android phones on the market.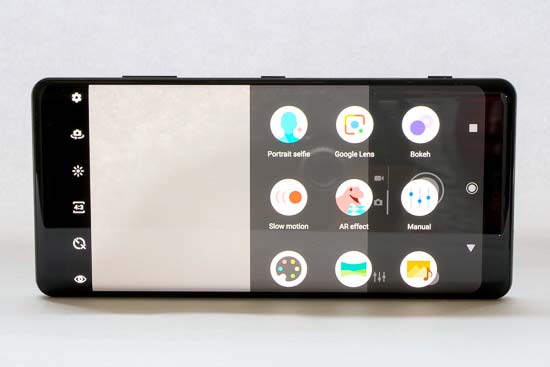 The Sony Xperia XZ3's Shooting Modes
When you're ready to take a photo (or video), you can tap an onscreen shutter button. The physical volume key can be set to a couple of different functions in the camera menu, including being able to trigger off the shutter if you prefer. By default it will control zoom – but as that's digital only, you may find it preferable to use the button for the shutter.
With the Sony Xperia XZ3, you've got the option to increae the phone's storage via a MicroSD card, which can be inserted into the slot next to the SIM card. Once you've done this, in the camera app you can choose to save your photos to either the internal storage, or the external memory card.