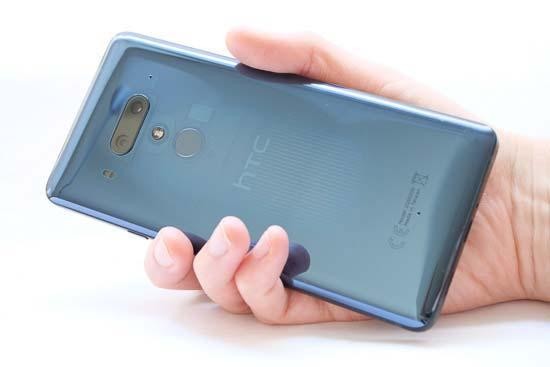 News
The new HTC U12+ flagship smartphone has two cameras on the front and back that deliver beautifully artistic photos with DSLR-like bokeh. The U12+ has received a DxOMark score of 103, the highest rated camera in the industry for a dual camera smartphone.
The HTC U12+ will be available in Translucent Blue, Ceramic Black, and Flame Red.
HTC Press Release
TAIPEI – May 23, 2018 – In its latest showcase of cutting-edge innovation, unrivaled usability, and extraordinary design, HTC today unveiled the HTC U12+. The U12+ is HTC's biggest and boldest flagship phone ever, including a vivid 6" display with cinematic 18:9 widescreen, yet it is also easier to use with Edge Sense 2 for intuitive one-handed interaction for snapping photos, calling up voice assistants, or virtually anything you may want to do. There is simply no other phone as big, beautiful, and easy to use as the HTC U12+.
Features of the HTC U12+ include:
Edge Sense 2: A new touch feedback experience turn the edges of U12+ into the easiest and most intuitive way to interact with your phone. The new Edge Sense knows which hand you are using, giving you one-handed freedom to double tap to navigate the device, hold to lock the screen orientation, or squeeze the sides for taking photos and videos, zooming in on maps, and virtually any interaction.
The highest-rated dual camera: Two cameras on the front and back deliver beautifully artistic photos with DSLR-like bokeh. UltraSpeed Autofocus 2 includes full sensor phase detection autofocus and new laser autofocus to ensure you never miss your shot, while HDR Boost 2 lets you take fantastic photos in any lighting condition. The main camera's 2x optical zoom and 10x digital zoom for photos means you are always ready for a close-up, while video with Sonic Zoom lets you "zoom in" on a sound or voice so you are truly the director of the scene. And with one-touch auto zoom, it's almost like you have Hollywood in your pocket. It's so good, the U12+ received a DxOMark score of 103 – the highest rated camera in the industry for a dual camera smartphone.1
Best-ever HTC BoomSound, USonic, and Qualcomm® aptX™ HD audio: Incredible, pulse-pounding sound with louder-than-ever BoomSound speakers and USonic earbuds featuring Active Noise Cancellation to keep out unwanted distractions. USonic matches the unique structure of your ear to shape the sound perfectly for you, so you hear every high note with crystal-clear precision and every bassline with thundering power. For wireless audio that goes way beyond expectations, aptX HD is designed to support high resolution 24-bit Bluetooth audio.
Liquid Surface: The U12+ showcases an even more artistic design featuring ultra-thin screen borders and new pressure-sensitive buttons encased in vibrant colors unlike anything you've seen. A Translucent Blue color that lets you admire your phone's beauty both inside and out, while Ceramic Black offers a gorgeously sophisticated look and Flame Red delivers extraordinary, color-shifting hues in the most dynamic look HTC has ever created.
Power and performance: Equipped with the Qualcomm® Snapdragon™ 845 Mobile Platform with X20 LTE that will extend the way people see, hear, and interact with the world around them. It is engineered to shatter performance expectations and connect you at beyond Gigabit LTE download speeds without unnecessarily compromising battery life. With 6GB RAM standard and up to 128GB storage, the U12+ shatters expectations of the power and performance you can expect from your phone. The U12+ is also VR ready for the Vive Focus (where available) with phone call and notification sync, plus mirror mode to turn your smartphone into your own personal VR theater.
The HTC U12+ will be available in Translucent Blue, Ceramic Black, and Flame Red. For more information, please see the following pages or visit htc.com.
Based on DxOMark ratings as of May 2018: dxomark.com/Mobiles.
About HTC
HTC Corporation aims to bring brilliance to life. As a global innovator in smart mobile devices and technology, HTC has produced award-winning products and industry firsts since its inception in 1997, including the critically acclaimed HTC U and Desire lines of smartphones. The pursuit of brilliance is at the heart of everything we do, inspiring best-in-class design and game-changing mobile and virtual reality experiences for consumers around the world. HTC is listed on the Taiwan Stock Exchange (TWSE: 2498). www.htc.com.